Digital Marketing for Financial Services Summit West 2019 is considered to be one of the Digital Marketing for Financial Services' series of digital marketing, social media, retail, eCommerce, and finance events that are held annually around the world, such as the UK, Europe, and the US. This conference is the 4th annual event of the Digital Marketing for Financial Services.
This year's event is Extremely relevant and provided a good level of detail that will allow us to take back learning to our business. It's considered to be the largest gathering of financial marketers in Europe.
Digital Marketing for Financial Services Summit West 2019 is a two-day event that brings a great package of the best industry's leaders, speakers, experts, and peers in all fields of the Digital marketing, in addition, a set of effective and valuable sessions, workshops, case studies, researches, talks, and presentations. It will take place from 26 – 27 of February 2019 at JW Marriott San Francisco San Francisco, CA, the USA.
The Conference's Speakers: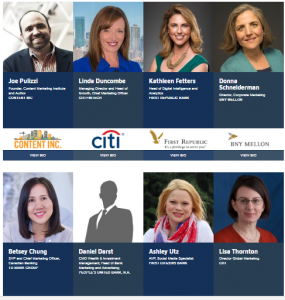 The Conference's Main Topics:
Digital ROI
Conversion
Attribution
Customer loyalty
Brand engagement
Why Should Attend?!
Build trust and differentiate your brand as the largest digital marketing forum for financial services in Europe. Hone your digital capabilities to deliver next-generation experiences.
Boost revenues with insights from c-level leaders from top financial brands. Benefit from real-life experience from leaders in banking, insurance, credit, and wealth management.
Combine sound strategy with tactical implementation. Bring theory into practice – build engagement, optimize performance, and raise profits.
Join European leaders in financial marketing. This forum is the place to be for unparalleled networking to foster connections and relationships.
Increase the pace of change at your organization. Exploit disruptive technologies to succeed in a crowded market.
Who will Attend?!
Big brands, agencies, and companies will attend the conference, such as:
HSBC
Barclays
BNY Mellon
BlackRock
Standard Life
Mastercard
CIBC
American Express
Meridian Credit Union
And more big branded banks
Conference in Numbers:
360° digital transformation
19 top financial brands
200+ marketing innovators
24 dynamic sessions
6 track
15 exclusive FS case studies
Pricing:
Regular – $ 1.600
Vendors, Suppliers, and Consultants – $ 2.795