Searchlove Conference 2019 in San Diego is considered to be one of the most valuable Online Marketing, Social Media, and Digital Marketing events around the world; it's held by the Distilled company – a web development agency that was found in 2005 by Duncan and Will -. Distilled Agency is annually bringing one of its series of search, analytics, content creation, optimizing, and paid promotion events across the US.
This year's event will be held in San Diego with a powerful agenda, content, workshops, sessions, talks, and presentations that offer a great opportunity for all marketers, advertisers, retailers, content creators, and all people who operate in the digital marketing and social media industry around the world.
Searchlove Conference 2019 is a two-day event that brings together some of the world's leading thinkers in online marketing, who will share their knowledge in all the digital marketing aspects from analytics and optimization to content and paid promotions, all the crucial topics are covered. It will take place from 4th & 5th of March 2019 at KONA KAI, San Diego, the USA.
Searchlove Conference 2019 Speakers: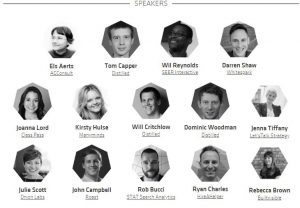 The Conference's Main Topics:
 SEO
Technical consulting
Creative content
Digital PR
Analytics
Optimization
Content
Paid promotions
Search Marketing
Data Analytics
Content Creation
Why Should Attend?!
Every session takes place in the same room. That means no difficult decisions and no rushing around between presentations.
Get feedback on your website at a site clinic.

The conference's in-house team looks after every detail: fresh food prepared with local ingredients, rock-, olid wi-fi and that chilled beer when you're finished for the day.

Clink glasses with all the speakers at this exclusive gathering. The small group will tuck into gourmet food and wine while talking through any hot topics in online marketing.
Glowing fires, evening sun, a beer in your hand. The beach makes for a vibrant party atmosphere where plenty of food and a generous drinks tab will keep us all in high spirits.
These drinks serve up another chance to speak to anyone you missed the day before. Wind-down and exchange contact details as the waves lap by the marina.
Meet your industry peers and compare experiences.
Get inspired by new ideas and different ways of thinking about marketing.
Learn about the latest actionable techniques to use back in the office.
Widen your field of knowledge on a diverse range of topics.
Who Can Attend The Conference?!
Innovators
Senior marketers and branders
Entrepreneurs
Digital executives and professionals
web & mobile strategists
Designers and web project managers
Business leaders
Business developers
Agency executives and their teams
Anyone else who operates in the digital community will attend to learn and leverage digital, mobile, and social media marketing.
Who Will Attend This Conference?!
Attendees list will include big brands of the industry, such as:
Adidas
Adobe
eBay
Emirates
Google
Ikea
Marriott
Nokia
Red Bull
Pricing:
Ticket – $1099.00
Video Bundle – $1149.00
Vip Bundle – $1399.00