SMX "Search Marketing Expo" Conference is one of the Search Engine Land series of digital marketing conferences around the worldwide, that has been the leading event for SEO and SEM professionals since 2007.
It also launches SMX Conference London 2018, that took place from 22 to 23 of May 2018 in London, USA.
Search Marketing Expo is a 2-day event of Digital Marketing, Social Media, Search  Engine Optimization (SEO), Search Engine Marketing (SEM), and Online Marketing sessions, which gathering a great package of speakers and attendees, in addition to introducing valuable sessions, researches. analytics, and workshops.
It will take place from 24 – 25 of October 2018 in New York, the USA.
SMX Conference New York 2018 Speakers: 
SMX Conference New York 2018 main Topics:
Digital Marketing
Social Media
Search  Engine Optimization (SEO)
Search Engine Marketing (SEM)
Online Marketing
Why You Should Attend?!
SMX is programmed by Search Engine Land, the search marketing industry's publication of record. You get all the great Search Engine Land content — live — from Search Engine Land's editors and industry thought leaders.

There's always a paid search advertising session for you to attend. SEM. All day. Every day.

You'll always find a session on search engine optimization happening. SEO. All day. Every day.

You'll leave SMX armed with expert tactics, tips, and techniques that can be immediately implemented to drive traffic, convert visitors, and grow your business.

Networking with fellow attendees, speakers and exhibitors is a big part of the value of attending SMX.

The SMX Expo Hall is the largest gathering of search marketing solution providers, and they're all there to help you streamline and enhance your operations.

track conferences can be a snooze because it's hard to offer something for everyone. That's why we offer multiple tracks that run simultaneously.

SMX isn't backed by a software company or digital agency. It isn't a customer event that dabbles with the occasional search topic. Our unbiased, vendor-agnostic content is designed to do one thing: Help you succeed. That's our agenda.
Who Will Attend?!
Multinationals and brands like:
Microsoft
HP
HighLights
Mercedes-Benz
NetFlix
Twitter
Time Inc.
Adidas
SMX Conference New York 2018 Sponsors: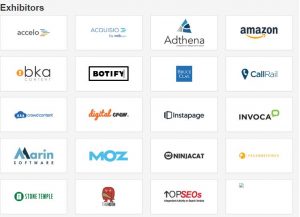 Tickets:
Start from   $1,295.00
Follow up SMX Conference New York 2018 updates here OR discover more Digital Marketing events, conferences & webinars in the USA during 2018 here.