Facebook is the most popular social media channel in Egypt, with 28M Facebook users in Egypt during 2016.
We Are Social's DIGITAL IN 2016 report, collating all the key data, statistics and trends you need to understand the state of digital, social and mobile media around the world today. The report shows regional and global overviews, with in-depth snapshots of 30 countries.
Digital in Egypt: A Snapshot of the country's key digital statistical indicators
Based on We Are Social annual report 'Digital in 2016', the total active internet users in Egypt are 52% of the total population.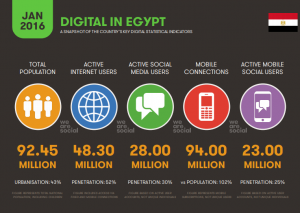 The total active mobile social users are 23M, with +39% growth since 2015.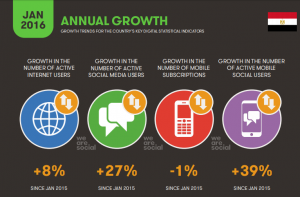 Facebook Users in Egypt – Jan 2016
The Total Facebook users are 28M in 2016.
The majority of Facebook users are males with a percentage 65%.
The most of the users are between 20-29 years old with 41% of the total internet users. 26% males & 15% females.
In addition, the fewest Facebook users are 50+ with a 5% of the total Facebook users in Egypt.