A few hours ago, Snapchat reported its quarterly earnings, that showcased some strange results and numbers that weren't expected. Snap Inc has reported in its quarterly earnings that there was a big decline in its active users, dropping from 191 million daily actives last quarter to 188 million today.
Despite this decline, Snap stock rose as much as 11 percent in the extended session after reporting a smaller-than-expected loss of 14 cents per share for the second quarter, 3 cents less than the 17 cents loss per share expected by Wall Street.
Snapchat also succeeded in beating on revenue; it reported 44% year-on-year revenue increase, and a 48% YoY jump in ad revenue, which means that Snap's hitting $262.3 million, compared to the $249.8 million Wall Street expectation.
This decline in Snapchat daily active users is considered to be the Snap first-ever decline, which records 188 million DAUs compared to the 193 million DAUs Analysts expectation. Despite this miss, the stock is currently rallying in after-hours trading. It's currently up over 10.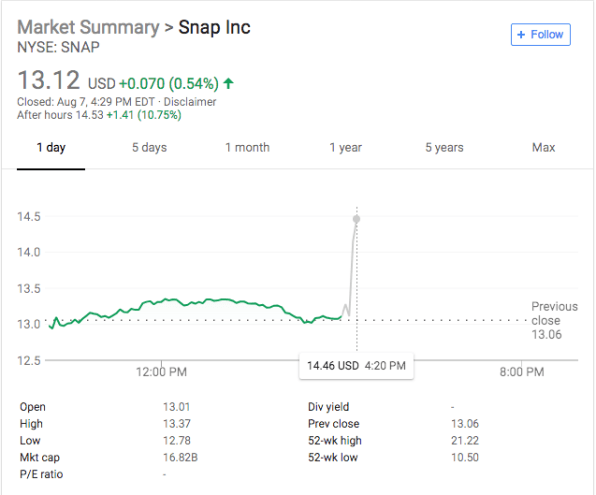 Experts attributed the Snapchat stock rise to Prince Alwaleed of Saudi Arabia, who announced on his Twitter personal account that he invested $250 million to get a 2.5% stake in the company. this step from Alwaleed is considered to be part of his strategy to invest in innovative technology.