As a matter of fact, "Digital" is not just a buzzword, it's not just even a hot trend. It's a total revolution that is disrupting every aspect of business, government, and individuals' lives.
Digital Economy is one of the forefront topics that resulted due the realization of that fact. It's estimated that most of the world economy growth will be fueled through digital channels. However, the digitization story of the Middle East is still far behind the global levels in terms of Digital Contribution and also far behind the anticipated Digital Potential levels.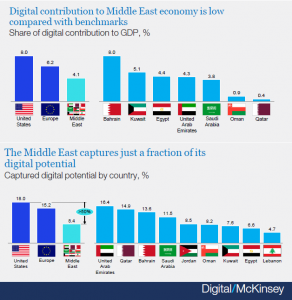 For more information, please download the full report.