As obvious digital media will continue to drive a remarkable amount of advertising growth in 2020. This report talks about the global digital ad trends for 2020, keep on reading to find out more.
Global Digital Ad Trends in 2020: Projected US Digital Ad Spend
It is mentioned that the summer Olympics and US presidential elections in 2020 will bring incremental advertising revenue besides driving local TV spending.
The following chart shows that for the first time US digital ad spending surpassed traditional media spending back in 2019. Moreover, digital AD spend is projected to reach over two-thirds of total media spending by 2023.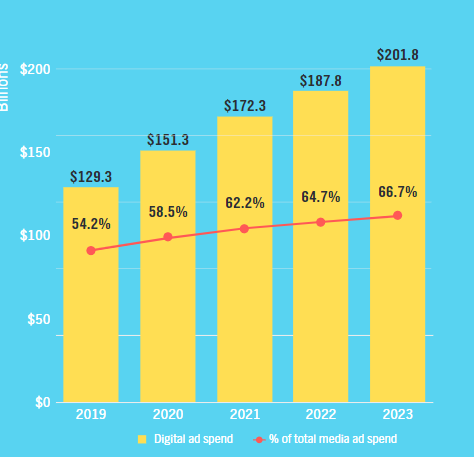 Digital ad spend was $129.3 billion back in 2019.
However, in 2020, it reached a percentage of 58.5% and that means $151.3 billion.
The percentage is expected to increase in 2021,2022,2023.
Make sure to check the digital advertising insights for 2020 here.
Global Digital and Programmatic Market
It is known that digital display ads including video are the fastest-growing ad format. It is reported that digital as a whole will definitely contribute to half of total media ad spending worldwide.
Digital display ads, including video, will account for over a quarter of total media ad spending in 2021, up from a fifth in 2018.
The chart below shows the projected total media ad spending share worldwide, by media, in 2018 and 2021: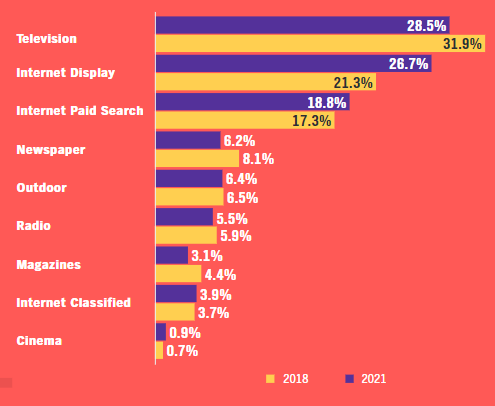 Mobile Advertising: Projected Mobile Ad Spend Worldwide
According to the global digital ad trends in 2020, mobile advertising surpassed $200 billion worldwide back in 2019.
Moreover, this is expected to reach $400 billion by 2023, which means mobile advertising is projected to represent 80% of global digital ad spend.
The chart below sums everything up: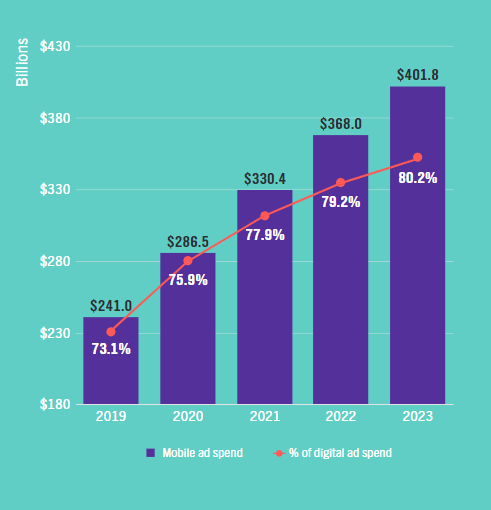 As shown mobile ad spend back in 2019 was $241.0 billion with a percentage of 73.1%.
In 2020, the percentage has increased to 75.9% and $286.5 billion.
The percentage is expected to increase in 2021 to 77.9% and $330.4.
The Table of Content of the "2020 Global Digital Ad Trends" Report:
US Digital & Programmatic Market
Global Digital & Programmatic Market
Mobile Advertising
Video Advertising
Private Marketplaces
Number of Pages:
Pricing: