Ramadan season in the Arab world is considered a time to focus on faith and spend more time with family and friends, which generally entails working less and resting more. The combination of free time and a joyful atmosphere means that time spent online and consumer spending is higher during Ramadan than any other period. During Ramadan season, people watch more YouTube, perform more searches and access the internet on their mobile devices more frequently.
For digital marketers, this season is full of opportunities, yet needs a resourceful mindset to take full advantage of. In today's case study, we'll find out how the local franchisee of Carrefour, the French retailer, measured significant boosts to brand awareness and online sales after running Facebook and Instagram ads during Ramadan in United Arab Emirates and Saudi Arabia.
Headquartered in France, Carrefour is one of the world's largest retailers, with more than 12,000 outlets in over 30 countries. It has a significant retail presence in both the Kingdom of Saudi Arabia (KSA) and United Arab Emirates (UAE), where its hypermarkets and supermarkets are operated as franchises by Majid Al Futtaim Retail.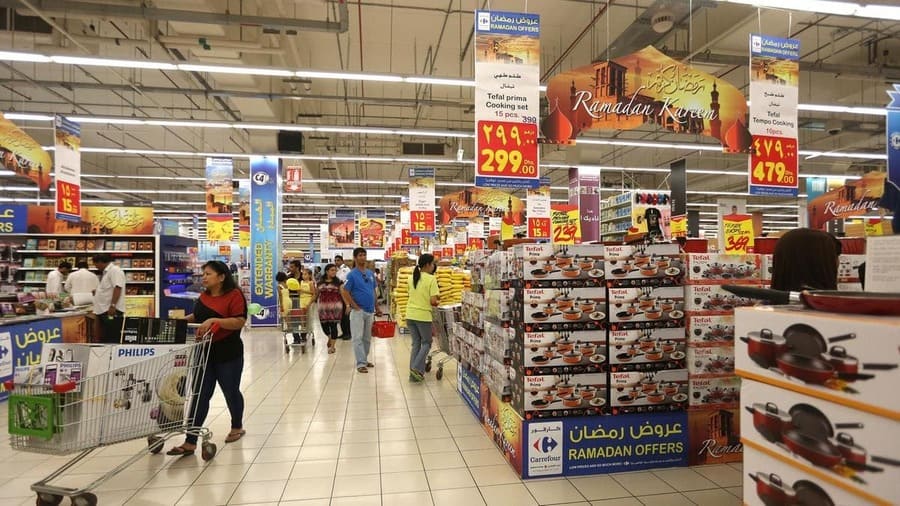 PROBLEM
Carrefour wanted to boost its recently launched online offering in KSA and UAE, and to test the impact of Facebook on awareness and sales during the countries' most sensitive and important time of the year, the holy month of Ramadan.
SOLUTION
Working with the Facebook Client Measurement team, Carrefour implemented a testing method to measure the effects of Ramadan-themed advertisements on a host of metrics, from ad recall to app installs and purchases via app or web.
The ads featured photos and videos, some of which were presented in carousel format to encourage people to browse images or other content. 

The campaign used dynamic ads, which are automatically created from supplied assets to serve messages to those who had already expressed an interest in Carrefour.

To appeal to potential customers unaware of Carrefour's online offering, the company used collection ads to showcase the catalogue via an inspiring Ramadan video focused on making recipes using Carrefour groceries.

The target audience was existing customers and potential new customers in both KSA and the UAE. 

The ads were delivered by automatic placements across Facebook, Instagram and Audience Network for maximum impact at the lowest cost.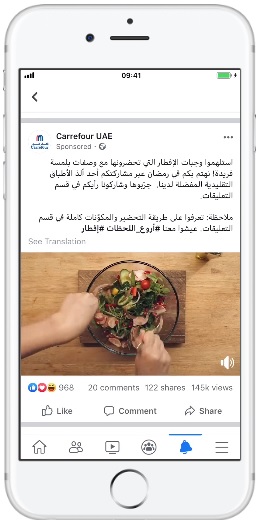 RESULT
Carrefour in KSA and UAE found that its Facebook and Instagram ads during Ramadan boosted content views, app installs and purchases. Between May 5–June 5, 2019, the campaign achieved:
45% increase in app installs (KSA)

6.2% increase in app installs (UAE)

15% increase in app and web purchases (KSA)

5.4% increase in app and web purchases (UAE)

17.6-point increase in ad recall (KSA)

9.9-point increase in ad recall (UAE)