The 6th Annual Digital Marketing for Financial Services Summit 2019 presents insights and tangible solutions to promote your digital marketing strategy.
The Digital Marketing for Financial Services Summit is the biggest, longest-running digital marketing event in financial services for innovators, digital strategists, marketing professionals and experts who are serious about digital marketing.
Attend the event and gain important insights on content marketing, building customer loyalty, improving a digital brand and much more. Join over 200 marketing innovators and widen your network as you mix and mingle with peers.
The Digital Marketing for Financial Services Summit 2019 will take place on Tuesday, November 12th, 2019 to Wednesday, November 13th, 2019 at Marriott at the Brooklyn Bridge New York, NY.
The Conference's Main Topics:
Centralize Your Digital Operations to Embrace Better Relationships with Your Financial Customers.
Breaking Down Silos to Improve Marketing Impact Across Channels.
Techniques and Tools to Rock Marketing Operations Without Getting Fired or Sued.
Bridging the Generational Gap Between Online and Offline Customer Needs and Experiences.
How Advisors and RM's Can Use LinkedIn As a Lead Generation & Client Acquisition Tool.
The Art of Organizational Agility: Following the Right Path to Digital Transformation.
How to Build Customer Communities for Increased Engagement.
Leveraging Voice Search to Improve Marketing Campaigns.
Creating Digital Experiences to Drive Future Growth.
Why You Should Attend:
Digital Marketing for Financial Services Summit provides insights from 24+ C-level financial services directors on how to design competitive advantage.
Meet
Get benefit from real-life experience from leaders in banking, insurance, credit, and wealth management
Learn more ways that digital can quickly boost profits and increase customer satisfaction.
Discover out how to drive social media in a regulated environment: Build a fanbase and influence your whole customer
Find how to make a difference in social media and drive customer loyalty.
Create your case for increased digital investment.
Pricing:
Financial Institutions and Investment & Wealth Management, Insurance, Funds, Credit Card And Credit Unions: $1,995
Agencies, Suppliers & Consultants: $2,795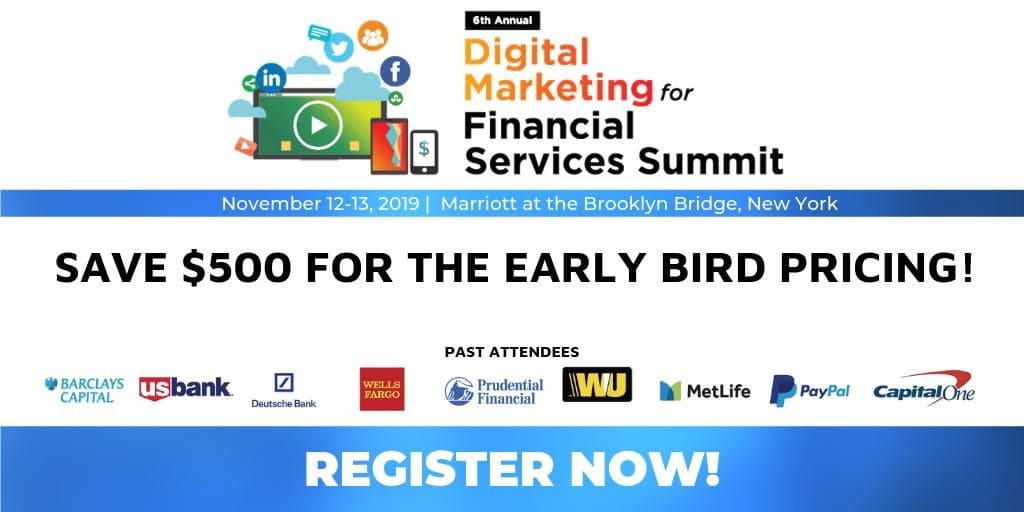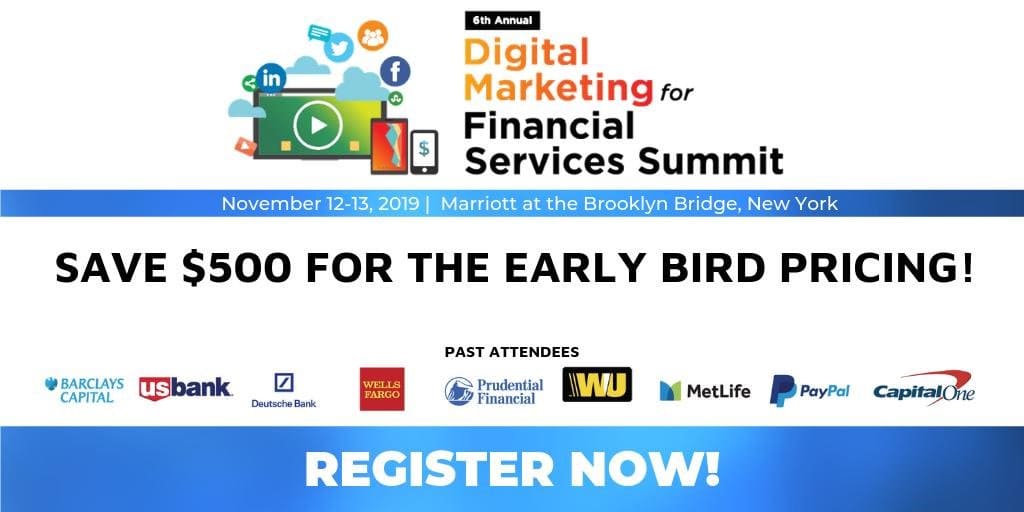 Follow up the 2019 Digital Marketing for Financial Services Summit HERE OR discover more Digital Marketing events, conferences & events in the USA during 2019 & 2020 HERE