Ad: tech New Delhi Conference 2018 is the Ad: Tech 8th annual event and is one of its series of digital marketing & social media events around the world.
Ad: tech New Delhi is all about what's trending in the digital ecosystem, an unparalleled marketplace where marketing, technology, and media communities come together to share trends, insights, disruptive technology that's shaping the digital economy, and a melting pot of thought leaders, technology innovators, visionaries, and techies alike.
Ad: tech New Delhi 2017 had been attended by a footfall of over 6500 delegates with a diverse mix of 22% C-level/Founder/MD, 27% Business Heads and 37% Managers.
It is a two-day event that brings the best industry's Speakers, Brands, agencies, and companies from all over the world, in addition to introduce a great package of sessions, workshops, opportunities, and talks & presentations.
Ad: tech New Delhi Conference 2018 takes place from 8 – 9 of March 2018 at the Leela ambiance Gurgaon, New Delhi in India.

Ad: tech New Delhi Conference 2018 Speakers: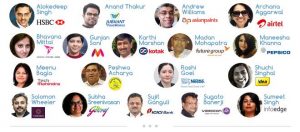 Ad: tech New Delhi Conference 2018 Main Topics:
Digital marketing
Social Media
Digital Technology
E-Commerce
Retail
Digital Ecosystem
Why Should Attend?!
Discover Whats Trending In The Digital Ecosystem.
Network With People Who Matter.
Grow Your Business.
Meet the best industry's leaders, speakers, brands, and companies.
Learn from a great set of valuable sessions, exhibitions, workshops, and presentations.
Position Yourself As An Industry Leader.
Engage With Your Target Audience.
Achieve Business Objectives.
Who Will Attend?!
Ad: tech New Delhi attendees come from other parts of the world to learn from and do business with their marketing and media counterparts. Over 34 Countries were represented at ad: tech New Delhi, in addition, big and popular brands, such as:
Adobe
Google
Delta
Pepsico
Ad Play
Ad: tech New Delhi Conference 2018 Sponsors:
Follow up the Ad: tech New Delhi Conference 2018 updates here OR discover more Digital Marketing events, conferences & webinars in India during 2018 here.