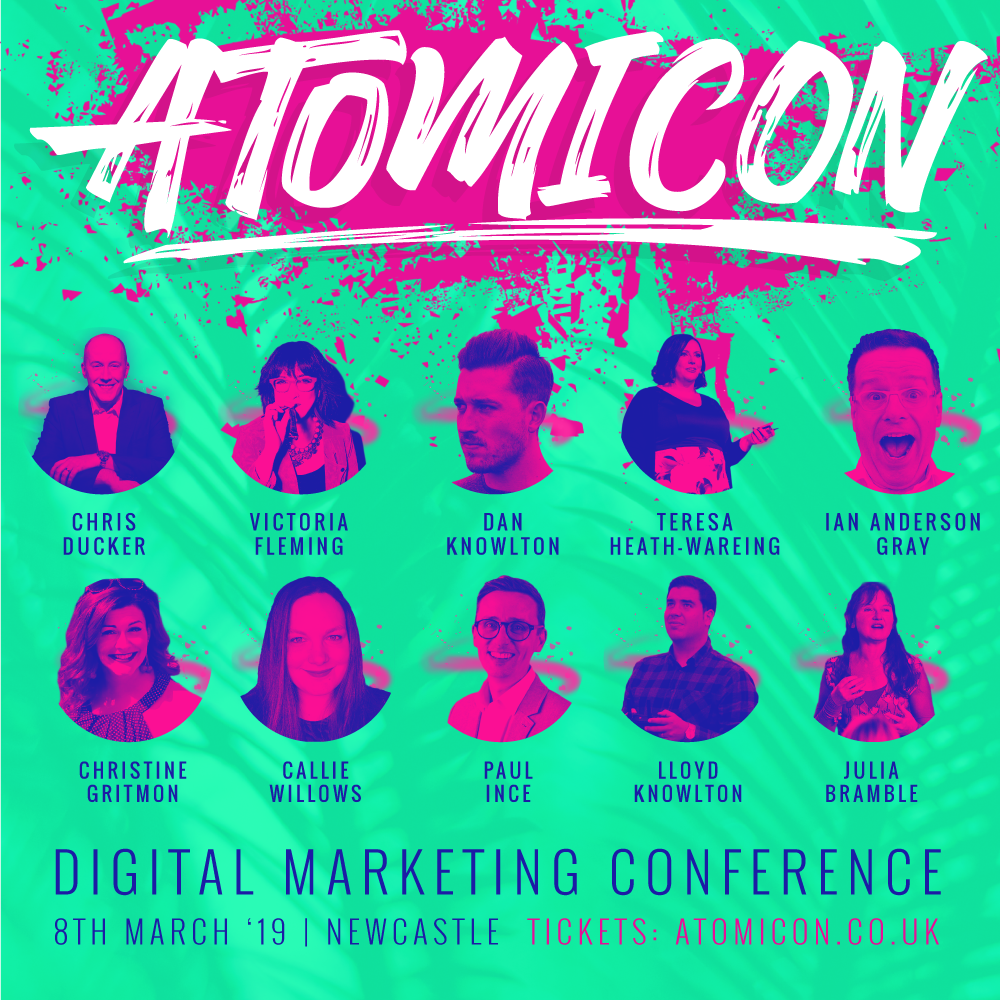 ATOMICON 2019 is considered to be one of the most informative and popular digital marketing events that held across the UK in providing all the people who operate in the digital marketing and social media with great opportunities to learn, network, and enhance their knowledge in all the digital marketing fields. This event will be produced by Andrew and Pete, who run an award-winning (Digital and Social Media Company of the Year, Business Personality of the Year) content marketing company called, 'Andrew and Pete,' where they help small businesses get quicker results online.
ATOMICON 2019 is also considered to be the Uk's best and most fun digital marketing conference, which allow all attendees to generate an avalanche of leads and sales. The core focus is around in-depth practical advice on a range of digital marketing topics, followed by implementation plans – so that what you learn on the day will get actioned and make an impact.
ATOMICON 2019 is a one-day event that brings a great package of the best industry's leaders, speakers, experts, and peers in all fields of the Digital marketing, in addition, a set of effective and valuable sessions, workshops, case studies, researches, talks, and presentations.
This year's conference will take place on 8th March 2019 at Newcastle Upon Tyne city center, the UK.
The Conference's Main Topics:
Live Video Confidence
Social Media Strategy
Webinars
Facebook Ads
How to Sell Online Products
Video Marketing
Content Ideas Generation
Messenger Bots
Sales Tactics
Digital Marketing
Digital Technology
Social Media
Brand Marketing
Search Engine Optimization (SEO)
Search Engine Marketing (SEM)
Marketing Strategies
Content Marketing
Mobile Marketing
Innovations
E-commerce
Retail
Video marketing
Publishing
Why Should Attend?!
This is a digital marketing conference with a difference.
The conference organizers have handpicked the conference's speakers based on who they have learned from, and who they know
can speak passionately to a crowd. No duds & no snooze-fests.
Each session is going to teach you how to create a digital marketing strategy that generates sales.
One of the best parts of conferences is networking. You never know who you're going to meet.
2 networking parties lined up, a pre-party on Thursday 7th March, and an after-party on Friday 8th March.
Bring your best party dress and your Southgate waistcoat.
Learn from a great set of valuable sessions, exhibitions, workshops, and presentations.
Position Yourself As An Industry Leader.
Engage With Your Target Audience.
Achieve Business Objectives.
Meet highly targeted marketers from all levels of the industry.
 Network within agencies and digital strategists.
 Promote your latest products and services.
 Reinforce your existing business relationship.
To make sure attendees actually IMPLEMENT the takeaways, all attendees are going to have access to the conference's LIVE ONLINE IMPLEMENTATION WORKSHOP.
Who can Attend?!
Innovators
Senior marketers and branders
Entrepreneurs
Digital executives and professionals
web & mobile strategists
Designers and web project managers
Business leaders
Business developers
Agency executives and their teams
Anyone else who operates in the digital community will attend to learn and leverage digital, mobile, and social media marketing.
Pricing:
Tickets start from £377.89