MarketingProfs' B2B Marketing Forum is more than just a marketing conference. It's the place where leaders, innovators, and people who make things happen will meet together to learn about the latest in the B2B marketing and share the secrets to success besides creative networking, shenanigans, and marketers-off-the-clock antics.
Why Should Your Boss Send You to MPB2B?
At MPB2B, our entire program is focused on the unique challenges and opportunities that B2B marketers face.
At B2B Marketing Forum attendees will get sessions designed to help bridge that gap between what they already know and what they need to know to be the best marketer for your business.
MPB2B attendees have the chance to meet, network, and get advice from hundreds of B2B marketers, from companies like Adobe, Deloitte, Duke Energy, Google, IBM, SAP, Vanguard, and more.
Investing in your team – giving them the education to do more with the tools they have is an excellent start.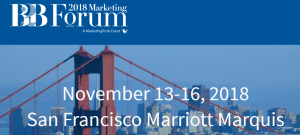 For more information or registration click here
#MPB2B