Media 360 Conference Brighton 2018 is the annual digital marketing & social media event of Campaign Agency, which showcases the latest updates in the digital industry.
Campaign's Media360 is a 2-day event, which brings together the greatest minds across the entire media landscape to network and tackles the biggest challenges facing the digital marketing industry.
In addition to bringing a great package of the best digital marketing industry's speakers, valuable sessions, workshops, and talks & presentations. The audience of the conference is over 300+ consisting of 50% advertisers and an overall seniority of 85% Director level and above.
Campaign's Media360 conference 2018 takes place from 17 – 18 of May 2018 in Brighton, the UK.
Campaign's Media360 conference 2018 Speakers:
Campaign's Media360 Conference 2018 Main Topics:
Reimagining advertising- brand repositioning & adapting to consumer behavior.
Long-term wins or short-term gains? The effectiveness conundrum.
Data standards revolution – audiences, advertising & objectivity in measurement.
Reinventing the agency model – which way now for agencies to thrive?.
AI and creativity – more positives than negatives?.
The power in difference – how do we harness diversity & inclusion?.
Brexit, brands, and business- threats or opportunities?.
Why Should Attend?!
Media360 is the industry's best-loved event.
No other event delivers the same audience seniority coupled with insightful, thought-led content and the best networking in the business.
Discover new trends and tools that will have a real impact on your business goals.
Be inspired and stimulated by case studies from brands, agencies and media owners.
Take away new insights and techniques to reset your agenda.
Who Will Attend the Conference?!
Big and the best popular brands will attend the conference, such as:
Uber East
Unilever
Domino's
Royal Bank of Scotland
Htc
Honda
Barclays
Just Eat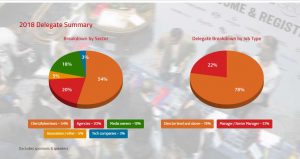 Campaign's Media360 conference 2018 Sponsors:
Follow up Campaign's Media360 conference 2018updates here OR discover more Digital Marketing events, conferences & webinars in the UK during 2018 here.