DigiMarCon Dubai 2018 is the premier Digital Marketing event in the Middle East.
DigiMarCon Dubai 2018's agenda will help attendees enhance their marketing efforts.  Whether your objective is to boost customer loyalty, improve your leads quality, increase sales, or drive stronger engagement.  Sessions will focus on building traffic, expanding brand awareness, improving customer service and gaining insight into today's latest digital tools.
The Digital Marketing Conference will be from the 23rd to 24th of October, at the luxurious Hyatt Regency in Dubai, United Arab Emirates.
Who attends DigiMarCon Dubai 2018?
(C-Level / Senior Management – Partial List)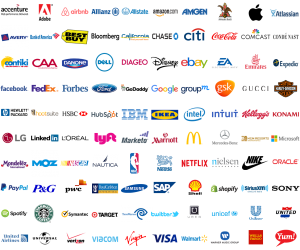 Why should you attend DigiMarCon Dubai 2018?
Hear from the most audacious and provocative speakers in the digital marketing industry.
Gain insight into emerging strategies, the latest innovative technologies, and best practices.
Network with thought leaders. Build your network and collaborate with your peers.
Who will you see at DigiMarCon Dubai 2018?
Take a look below at some of the top talent that speak at DigiMarCon Digital Marketing Conferences!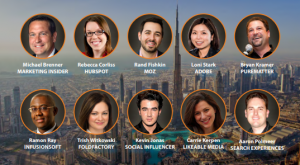 DigiMarCon Middle East will give you the latest strategies and information to increase your own knowledge and grow your business through digital marketing. Whether you're just getting started or you're a digital marketing expert.
MASTER CLASSES
Limited to less than 100 attendees only, DigiMarCon Dubai 2018 is offering six limited-attendance Master Classes. They are at different times to allow the VIPs to attend them all.
Master Classes are 1-hour duration with networking time before and after and are only available to conference attendees. All Master Classes are included in the VIP and All Access Pass.
Master Classes provide the practices, applications, and hands-on exposure you need to become (and remain!) a top performer in your field. Whether you are a consultant, site designer, website owner, or in-house marketing professional, this is an opportunity to experience firsthand the latest developments in digital marketing.
Regardless of your experience level, you will leave these intensive master classes with skills to improve your online business results.
Visit the event website for more details about the DigiMarCon Dubai 2018