Digital Summit Salt Lake City 2019 is considered to be one of Digital Summit series of Digital Marketing & Social Media conferences, which are introducing great sessions, workshops, researches and analytics in several topics.
Digital Summit is a series of great events that held in many cities such as, Texas, Philadelphia, Tampa, Boston, Minneapolis, Washington, Detroit, Chicago, Charlotte,  Raleigh, Phoenix and more. Up till now, Digital Summit launched 3 big digital marketing, social media, and content marketing events just in 2019, which are:
Digital Summit Salt Lake City 2019
Digital Summit Salt Lake City 2019 is a two-day event that is considered to be the definitive Digital Marketing gathering. Its attendees are the movers and shaker influencing the growth and success of their company's digital marketing — and the future landscape of the digital economy.
Digital Summit Salt Lake City 2019 will take place from 5 – 6 of March 2019 at the Utah Cultural Celebration Center, Salt Lake City, the USA.
The Conference's Main Topics:
Content Marketing
Social Media
Email Marketing
Data & Analytics
Brand Storytelling
Search Engine Optimization & Search Engine Marketing (SEO & SEM)
Conversion & Engagement
Ux & Web Design
Mobile Marketing
Strategy
B2b Marketing
B2c Marketing
Why Should Attend?!
50+ in-depth sessions & workshops.
Get under the hood and stay ahead of the strategic curve with companies like Google, Netflix, DoSomething, Intel, and more!
We're talking hundreds of seasoned marketers, strategists, designers, and more (just like you!) to mingle and connect with.
Use us as a lab for team building and max impact on your bottom line.
Be The Hero Of The Office.
You'll leave with access to our speakers' presentation decks.
Free wi-fi, open bars, cool event swag, concierge service, exclusive meet & greets, on-site giveaways.
Who can Attend?!
Content Creators and Marketers
Data & Analytics Directors / Managers
Deliverability Specialists
CMO / CXO / CEO
Email Marketers
Creative Directors
Product Marketers & Managers
Researchers
Sales and Account Executives
Search Architects & Analysts
Social Media Managers
UX / CX Designers
Digital Summit Salt Lake City 2019 in Numbers:
2 Eye-opening Days
2 Amazing Keynotes
45+ Actionable Sessions
1,000+ Excited Attendees
1,300+ Minutes Of Content
Who will Attend?!
Big brands, agencies, and companies will attend the conference, such as:
Google
Amazon
Nike
Uber
Microsoft
Spotify
Etsy
Disney
Instagram
Pinterest
Sponsors: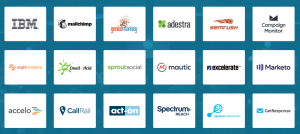 Pricing:
Conference Pass ($295)
Plus Pass ($395)
Premium Pass ($495)
Platinum Pass ($995)
Conference Pass + Masterclass ($495)
Plus Pass + Masterclass ($595)
Premium Pass + Masterclass ($695)
Masterclass ($200)