#DMWF Asia 2020 is the leading digital and social marketing conference that will bring together the worldwide digital marketing community to tackle the challenges that the digital future presents. Delivering 2 days of top-level strategic content and digital marketing insights, networking, and discussion from leading global brands
#DMWF Asia 2020 will include the latest trends & strategies within digital marketing and covering digital marketing Technologies, Virtual Reality, Artificial Intelligence, Influencer Marketing, UX, CX, eCommerce, Content Marketing, Data, Analytics, and Mobile, this conference is not to be missed.
In #DMWF Asia 2020, their marketing experts will share their industry knowledge around content & social media marketing, digital transformation, data, UX, AI, SEO, eCommerce, personalization and so much more.
#DMWF Asia 2020 will take place February 18th and 19th at Marina Bay Sands Singapore.
The Conference's Main Topics:
Influencer & Social Media Marketing
Content & Digital Brand Strategy
eCommerce UX & CX
Data & Disruptive Tech
Why You Should Attend:
#DMWF offers a unique opportunity to be part of the industry-leading digital marketing technology event.
Gain significant brand exposure and promote your company as a thought-leader alongside top-level speakers to an audience of worldwide marketing professionals.
#DMWF is all about bringing together the best minds from the world of digital marketing.
Networking with +300 attendees as industry experts and high-level brand representatives.
Associate your brand with the highest level of digital marketing strategy and discussion.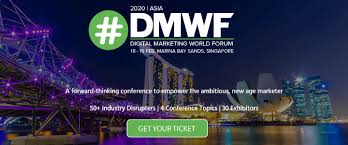 Pricing:
Advance Rate:

Day One: $568
Day Two: $568
Both Days: $946
Conference Materials: $179

After 31 Jan 2020, midnight:

Day One: $599
Day Two: $599
Both Days: $999
Conference Materials: $199

On 18 Feb 2020:

Day One: $669
Day Two: $669
Both Days: $1115
Conference Materials: $299
Follow up #DMWF Asia 2020 HERE OR discover more Digital Marketing events, conferences & events in the Japan & Asia during 2019 & 2020 HERE