Social Media Week Bristol conference is coming back for round two! The global conference which has been hosted in over 25 cities worldwide is returning to Bristol from 20th – 23rd April 2018.
The 2018 edition of Social Media Week Bristol will welcome over 2500 delegates to over 40 events, talks and seminars.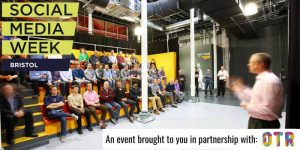 This event is free to young people under 25. Please enter the code '25FREE' on the Eventbrite page to secure your event place.
For more information or registration Click Here
#SMWBristol