The Advanced Search Conference 2019 is considered to be one of Global Insight Conferences Ltd that was co-founded by entrepreneurs with a passion for conferences and with a desire to create a better quality of conference, where the client is at the very core.
The Advanced Search Conference 2019 is a place, where 26 Brand-Side Search Professionals Share Practical, Advanced SEO & Search Strategies Which Optimise Rankings, Improve Indexing & Boost Overall Performance.
It is A One-Day, Brand-Led Conference & Networking Event, which will take place on 13th February 2019 at Museum of London, Docklands, Uk.
The Advanced Search Conference 2019 Speakers: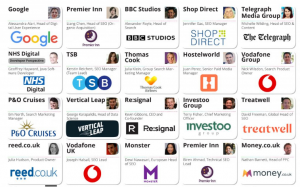 The Advanced Search Conference 2019 Main Topics:
Technical SEO
Mobile-First
New Tech & Voice Search
Site Speed
Next-Level Content
Link Building
Performance & Optimise Rankings
Advanced Search Strategies
Why Should Attend The Advanced Search Conference 2019?!
Optimizing Mobile Search & Mobile Page Speed: Improve mobile-first rankings, boost visibility and enhance user experiences
Voice Search In Practice: Prepare your company internally and position your brand as the first search result
Technical SEO & New Technologies: Practical applications of machine learning, AI and automation for next-level technical SEO strategies
Advanced Content Strategies: Beyond keywords to sophisticated SEO which promotes dwell time, engagement, link building and organic reach
Savvy Link Building: Smart link-building strategies which foster authority, credibility and shareability
Avoid Falling Foul Of The Latest Google Updates: Top technical approaches, discover what works, what doesn't and how we can future-proof
Demonstrably Improve Site Speed & Page Rankings: Demystifying site speed myths and identifying quick wins
Paid, SEM & PPC: Maximise search impact with strategically-allocated spend
Skilfully Integrate SEO Into Your Social Media Strategies: Increase content scalability, link building and rank position
International SEO Best Practice: Successfully adapting your strategies for internationally-optimised sites
Who Should Attend The Advanced Search Conference 2019?!
Content Creators and Marketers
Data & Analytics Directors / Managers
Deliverability Specialists
CMO / CXO / CEO
Email Marketers
Creative Directors
Product Marketers & Managers
Researchers
Sales and Account Executives
Search Architects & Analysts
Social Media Managers
UX / CX Designers
Pricing:
In-house/Brand Delegate Pass – Standard Rate: £549 +VAT
Agency/Supplier Delegate Pass – Standard Rate: £749 +VAT
Exhibition Package 3×2 Metre Area PLUS 2 Delegate Passes – Standard Rate: £2,499 +VAT