Last Updated on 1st of July 2018.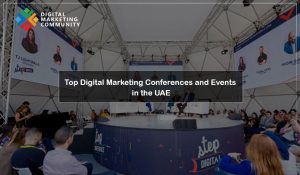 UAE, and Dubai in particular, is one of the most countries that have a well-deserved reputation in going big with the latest emerging technology, and the digital marketing industry has more updates and trends every day.
The new technologies like Augmented Reality and Virtual Reality have entered the digital marketing arena as untapped advertising ways, and every marketer needs to be up-to-date with these new technologies.
This is the most fresh and complete overview of all upcoming digital marketing conferences and events (or closely related) in Dubai during 2018:
January 24th, 2018 | Novotel WTC, Dubai
This event is one of the most important events in digital marketing in Dubai. DIGITALKS is known as The Middle East's First Digitally-Focused Conference Series and it is the MENA's first ever digital marketing conference of its kind.
Speakers:
Sofiane Haddadi "Head of Media at L'OREAL"
Amol Kadam "Co-founder at RBBi"
Nabil Dabbagh "Global Head of Customer Success at DeepCrawl"
Heba AlSamt "Digital Media Director of TV & Radio at DMI (Dubai Media Inc)"
Murad Daniyel "Business Development Manager at Sitecore"
Jonathan Beacher "Data & Analytics at Alteryx"
Benefits of attending:
Meeting experts and thought-leaders alike and take advantage of networking and mingling with professionals from a variety of verticals.
'Digital Revolution Occurring Among E-commerce Platforms' is the theme of this year conference. Anyone working in the ecommerce ecosystem is welcome to attend the region's first ever Digital Marketing conference.
March 28th-29th, 2018 | Dubai Internet City
STEP started out as a series of workshops and small gatherings and over 5 years, and has grown to become the largest tech experiential festival in the Middle East. With 4 conferences, more than 250 startups showcasing, and 6000+ attendees over two days, STEP 2018 will bring the latest in tech and digital.
STEP Conference 2018 main speakers:
Mark Darcy – VP, Chief Creative Officer at Facebook
Fadi Ghandour – The Executive Chairman of Wamda Group
Manal Rostom – Mountaineer
Elias Bou Saab – Executive Vice President of the American University in Dubai
Osman Sultan – The founding CEO of DU
April 4th, 2018 | Media One Hotel, Dubai
The Meet-Up targets various careers in the digital marketing industry.
Who can attend?
PPC specialists
Performance managers
Digital marketing managers
Account Strategists
Facebook Ads executives
PPC ninjas
marketing students
April 14 – 16, 2018 | Dubai International Convention and Exhibition Center
With over 300 speakers, 350+ exhibitors and 10 000+ visitors, Seamless brings the brightest minds together from across payments, ecommerce and retail. Seamless ignites new ideas and inspires the audience to think differently. You'll be stimulated by innovators, business leaders and entrepreneurs from across the globe.
Seamless has three separate conference agendas covering the world of Payments, E-commerce and Retail. With one shared free-to-attend exhibition hosting 350 of the region's leading technology providers.
Main topics:
Payments
E-commerce
Retail
APRIL 17-18, 2018 | DUBAI
The 5th Annual Smart Data Summit is the only dedicated big data analytics event in the UAE. This event shows you how to make the most of your data in driving customer Insights and business performance.
Speakers:
Younus Al Nasser | Assistant Director – Smart Dubai
Maha Muraish | VP / Data Monetization and Digital Channels – Etisalat
Alessandro Casuccio | Customer and Marketing Analytics Lead – Careem
Benefits of Attending:
MEET the who's who of the big data analytics industry
GAIN knowledge on new trends and best practices
CONNECT with data analytics practitioners and expand your network
20 SEPTEMBER, 2018 | Madinat Jumeirah Resort, Dubai
The MENA Search Awards is the premiere celebration of SEO, PPC and content marketing in the Middle East & North Africa.
The Ward's Main tasks:
Celebrate the expertise, talent and achievements of the search industry.
The awards are also open to those based elsewhere around the globes who are delivering work for the MENA market.
Feature 33 categories celebrating the very best in SEO & PPC campaigns, software and the teams and individuals behind them.
OCTOBER 23rd – 24th, 2018 | HYATT REGENCY Dubai
The event is The Premier Digital Marketing Event in the Middle East, so if you want to be successful in digital marketing, you can't miss DigiMarCon Middle East 2018!
Benefits of attending:
Hear from the most audacious and provocative speakers in the digital marketing industry.
Gain insight into emerging strategies, the latest innovative technologies, and best practices.
Network with thought leaders, build your network and collaborate with your peers.
If you are organizing a mega event in UAE or any other country, send us an email to info@digitalmarketingcommunity.com