Vidcon London 2019 is considered to be one of the Vidcon's series of video marketing, digital marketing, and social media events that are held regularly across US, AU, and UK. They are the world's largest events for fans, creators, executives, and brands who are passionate about online video and building diverse communities, which introduce a variety of live on-stage performances, panels, fireside chats, interactive experiences, fan and creator meet & greets innovative brand activations and more.
Vidcon London 2019 is a four-day event that has a unique design that allows everyone, no matter their interests, to easily find the content and activities suited to them. This is done by building the whole event around three tracks, which gather related topics together—kind of like channels. It will take place from 14th – 17th of February 2019 at ExCeL London, UK.
The Conference's Main Topics:
Video Marketing
Augmented Reality (AR)
Virtual Reality (VR)
Digital Marketing
Digital Technology
Social Media
Why Should Attend The Vidcon London 2019?!
The conference will introduce three valuable tracks, which are:
The Community Track is for fans who want to come to VidCon and have an amazing time. Everything in the Community Track is about having fun, making friends, and being entertained by the best online video personalities in the world. More about the Community Track…
The Creator Track is for creators who want to learn how to make higher quality content and find a bigger audience. It includes workshops, Q&As, and other activities that give content creators the opportunity to tap into the skills of the most successful professionals in the world's newest entertainment medium. More about the Creator Track…
The Industry Track is tailored to corporations, brands, and technology companies building businesses in the online video ecosystem. It features keynotes, fireside chats, seminars, case studies, and product demonstrations focused on practical hands-on advice for today and tomorrow coupled with strategic insight into the future of online video and the media business overall. More about the Industry Track…
Who Should Attend The Conference?!
Innovators
Senior marketers and branders
Entrepreneurs
Digital executives and professionals
web & mobile strategists
Designers and web project managers
Business leaders
Business developers
Agency executives and their teams
Anyone else who operates in the digital community will attend to learn and leverage digital, mobile, and social media marketing.
Sponsors: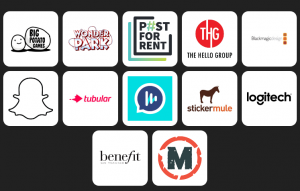 Pricing:
Community – £70.00
Chaperone (Community) – £60.00
Community Saturday – £35.00
Community Sunday – £35.00
Creator – £145.00
Industry – £700.00
Rhett and Link: Live in Concert – £40.00
Rhett and Link: Live in Concert + VidCon Bundle – £110.00
Rhett and Link: Live in Concert VIP – £190.00