WISE National Conference 2019 in Toronto is considered to be the Women in Science and Engineering's 7th Annual National Conference that serves to empower and inspire individuals to pursue their passions, explore new opportunities, and to make meaningful, lasting connections. It will bring together delegates from all across North America to share their experiences and ideas and become inspired over the course of a two-day event dedicated to professional and personal growth.
WISE National Conference 2019 is the place where attendees will have the opportunity to hear from inspirational leaders from a wide range of STEM fields, expand your skill set in technical and professional development workshops, and challenge yourself in our competitions. It will take place from 26 – 27 of January 2019 at The Westin Harbour Castle, Toronto, Canada.
Why Should Attend The WISE National Conference 2019?!
The National Conference will provide you with motivation and empowerment to expand your potential!
Get inspired by hearing from our keynote speakers, exceptional individuals who have made a name for themselves through their accomplishments.
Learn about cutting-edge research, or get inspired by entrepreneurs in our panel discussions.
Grow your technical and professional skills in our hands-on workshops hosted by STEM companies.
Chat with professionals working in STEM fields in our Fireside Chats.
Network with over 20 companies in our Career Fair.
Test your skills in various competitions.
Who Should Attend The WISE National Conference 2019?!
Innovators
Senior marketers and branders
Entrepreneurs
Digital executives and professionals
web & mobile strategists
Designers and web project managers
Business leaders
Business developers
Agency executives and their teams
Anyone else who operates in the digital community will attend to learn and leverage digital, mobile, and social media marketing.
Who Will Attend The WISE National Conference 2019?
Big brands, agencies, and companies will attend the conference, such as:
Oanda
Walmart
Accenture
Intel
IBM
Shell
Uber
Bloomberg
Google
WISE National Conference 2019 Sponsors: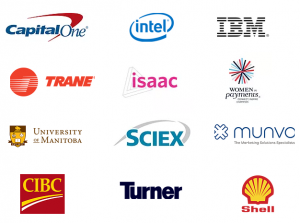 WISE National Conference 2019 Pricing:
Tickets Start From $100