July 25, 2018, Facebook released its 2018 Q2 earnings report that shows a weak growth in the number of Facebook users, in addition to that the social-media giant's user and revenue growth are significantly slowing down because of the Cambridge Analytica breach.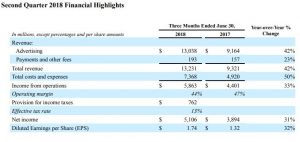 The report showcased disappointing numbers unlike all the experts' expectations, such as:
Facebook Q2 2018 – Daily Active Users 
DAUs were 1.47 billion on average for June 2018, an increase of 11% year-over-year.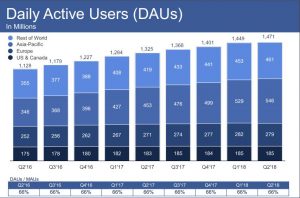 Facebook Q2 2018 – Monthly Active Users
Facebook reached 2.23 billion monthly users, up just 1.54 percent, much slower than Q1's 3.14 percent (where its growth rate has hovered for years).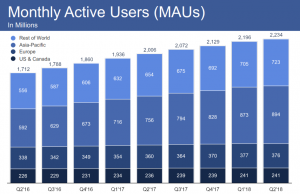 This graph by Techcrunch, shows how Facebook MAUs decreasing over the last 3 years.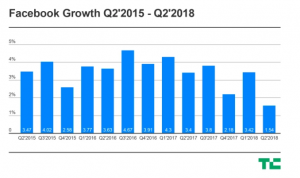 Facebook Q2 2018 – Revenue
Revenue: $13.23 billion vs. $13.36 billion per a Thomson Reuters consensus estimate.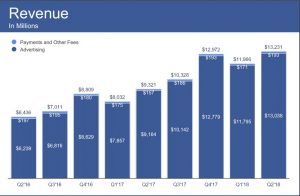 Mobile advertising revenue represented approximately 91% of advertising revenue for the second quarter of 2018, up from approximately 87% of advertising revenue in the second quarter of 2017.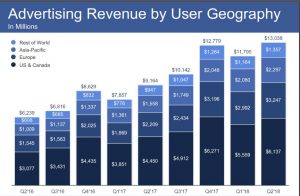 Facebook Q2 2018 – Average Revenue per User (ARPU)
$5.97 vs. $5.95, according to a StreetAccount and FactSet estimate.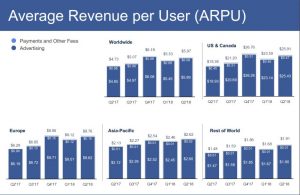 Facebook Q2 2018 – Income from Operations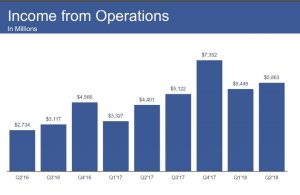 These shared results and numbers negatively affect Facebook's market value. As a result of those results, the Facebook stock plunged more than 20% in early trading Thursday, 26 June 2018, that cost Facebook a great loss of approximately US$15 billion in market value in after-hours trading to around $170 per share. That's down from $217.50 when the markets closed. Initially the share price dropped 7 percent on news of slow user growth, but then fell much further when Facebook announced revenue growth would slow significantly in upcoming quarters.
Mark Zuckerberg, the company's founder and CEO, also saw his fortune tumbled by US$16.8 billion in after-hours trading on Wednesday.
It should be pointed out that Twitter also suffered a great fall in its share price because of Facebook's last shock, in addition to Twitter's disappointing 2018 Q2 earnings report, two days after.