Facebook has announced on its official blog rolling out some new features on their platform to strengthen transparency on Facebook.
Facebook developers launched some new tools and features to achieve the transparency to ads and pages on Facebook platform.
"Today we're making significant steps to bring more transparency to ads and Pages on Facebook. Giving people more information about any organization and the ads it's currently running will mean increased accountability for advertisers, helping to prevent abuse on Facebook."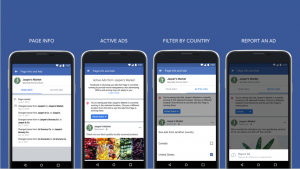 According to the new features, all Facebook users can review more information about any organization and the ads it's currently running; also they can be given more additional information wasn't available before, even if they don't advertise.
Facebook sees that the new features on its ads and pages will increase accountability for advertisers, which helping to prevent abuse on Facebook.
How to access these new features on Facebook pages?
View Active Ads:
Visit any Page and select "Info and Ads".
You'll see the running ads on Facebook, Instagram, Messenger or any partner network.
You can report anything suspicious by clicking on "Report Ad."
More Page Information:
You can learn more about Pages even if they don't advertise.
You can see any recent name changes and the date the Page was created.
Facebook also announced that it will launch its new political ads and archive in Brazil, ahead of October's general election, so anyone running political ads in Brazil will be able to register next month. According to Facebook political archive and ads, Brazilians will be able to see labels for election ads in their country — all of which will be added to the Facebook archive.
In the same context, Facebook COO Sheryl Sandberg commented on the latest updates on Facebook by saying:
Sheryl Sandberg also spoke with members of the media and added that she doesn't think that the new updates will affect ad spend on Facebook. She suggested that advertisers are aware of the changes, and while some of them have expressed concerns about competitors seeing their advertising, most of them are on-board:
"To be clear, we didn't hear a lot of the feedback but we definitely heard some. I think advertisers for the most part stand behind the ads they're running. You actually can see a lot of your competitor's ads and it's more just like you happen to catch them or they happen to be targeted to you. It's not that these aren't public facing things in the first place — advertising is always a public facing piece of content you put into the world. I don't believe we will see a meaningful change in advertiser willingness to engage in our platform. I don't expect that — we haven't heard that."
Even though Facebook doesn't share all the details about its new updates bringing to ads and pages, but we excited to learn more about them as it seems like ad transparency is a big focus nowadays, as Twitter just launched its own Ads Transparency Center.