Facebook announced on its official blog yesterday the launching of Memories, a place on Facebook where all the moments you've shared before, including posts, photos, friends you've made, and life events will be archived in.
It's a product that connects you with the past. The idea of a memory product on Facebook come to fill a need by helping people re-experience their posts without having to manually scroll down through their Timeline.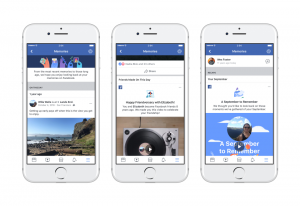 "Every day more than 90 million people use On This Day to reminisce about these moments they've shared on Facebook, and research suggests this kind of reflection can have a positive impact on people's mood and overall well-being. This is why we're updating the experience to ensure all of your memories are easy to find" Facebook said.
Posted by Facebook on Monday, June 11, 2018
 Facebook also showcased the new section features to help users how it can be used. It can include 4 sections:
On This Day:

The content that you know and love will still be available within this section, showing your past posts and major life events from this date.

Friends Made On This Day:

This section will include a list of friends you made on the same day in the past years, including special videos or collages that celebrate your friendversaries.

Recaps of Memories: A section that f

eatures the seasonal or monthly recaps of memories that have been bundled into a message or short video.

Memories You May Have Missed:

If you haven't checked your memories recently, this section will show you the posts that you might have missed from the past week
On the same context, Facebook had the On This Day over the past 2 years. It has come a long way both in terms of quality, and in terms of how people have embraced memories on Facebook. Firstly, they tested the nostalgia with Lookback and Say Thanks, then they developed On This Day to help people revisit memories from a given day in their Facebook history.
By launching "Memories" feature, Facebook is trying to make its platform being the most popular and beloved app for all the world's users.