A few hours ago, Facebook faced a big shock after it lost approximately US$15 billion in market value in under two hours, as reported by Reuters. The stock dropped about 7% immediately after the earnings report was released, then plummeted to a loss of more than 20% as a conference call with analysts progressed.
Mark Zuckerberg, the company's founder and CEO, who owns nearly 17% of the company, also saw his fortune tumbled by US$16.8 billion in after-hours trading on Wednesday, as reported by US time.
After Facebook had announced in its last quarter that the social-media giant's user and revenue growth are significantly slowing down because of the last problem of Cambridge Analytica breach.
Based on this published result, the Facebook stock plunged more than 20% in early trading Thursday, as investors reacted to the slowing down of user and revenue growth.
"When it comes to market capitalization, Facebook was worth $629.6 billion yesterday. The company is now worth $506.2. In other words, Facebook has lost $123.4 billion in value overnight." TechCrunch said.
Facebook's margin fell to 44 percent in the second quarter from 47 percent a year ago as it spent heavily on security and initiatives to convince users the company was protecting their privacy, as Facebook Chief Financial Officer David Wehner said on a conference call with analysts.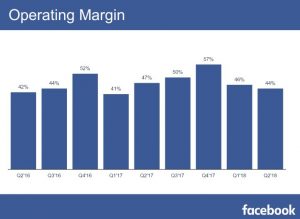 It should also be pointed that Facebook continues to add users, despite the fact that Q2 '18 was Facebook's slowest quarter of growth ever.
Facebook's daily active users saw an increase of 22 million DAU  in the quarter, taking it to 1.47 billion logging on daily.