Facebook develops a new feature on its Messenger platform, which will make communications between different languages businesses more easier. They launch now the optional auto-translation of English to Spanish, and vice-versa, and it's available for all users in the United States and Mexico.
Messenger optional auto-translation is considered to be a great advanced tool, which could open up new opportunities for cross-border business transactions. The Messenger optional auto-translation will facilitate cross-border and cross-language friendships, business and discussion that might show people in the two countries that deep down we're all just human.
In addition to its benefits, the new tool will also help U.S. companies to use Messenger for conversational commerce without having to self-translate everything, especially for the small companies.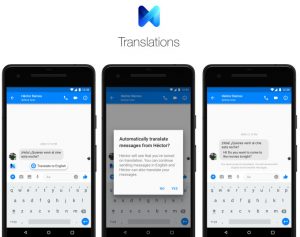 "Messanger now has more than 200,000 active developers and 300,000 active bots (up from 100,000 of each a year ago), which facilitate 8 billion messages between people and businesses each month — up 4X since last year." David Marcus Facebook's head of Messenger.
On the latest F8 Conference, on May 2018, David Marcus Facebook's head of Messenger announced that they will begin rolling out chat translation within Messenger through its M Suggestions assistant. He added, that this will help drive commerce between buyers and sellers despite language barriers.
He explained more about the feature and said that when users receive a message that is different from their default language, Messenger's AI assistant M will ask if they want it translated, and if the user doesn't turn off the translation option, all message will be translated automatically.
The new feature of Messanger facilitate people's conversations and will help the marketplace growth on Facebook, as the feature starts for users who have a conversation through Facebook Marketplace, its peer-to-peer commerce feature, and over time Facebook says it will "launch this functionality in additional languages and countries."