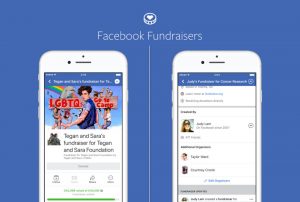 Facebook has announced new feature regarding Facebook Fundraisers in order to empower its impact and to make it more attainable, as a lot of people use Facebook as a fundraising tool to help and support specific organizations without any profits.
This update includes two important aspects of fundraising process:
Expanding to Pages:
Brand and public figure Pages can now fundraise for nonprofit causes, also the nonprofit pages can now also start fundraisers for their own causes.
By launching a page fundraiser, artists Tegan and Sara recently succeeded to give 100 kids the chance to join LGBTQ summer camp in the US and Canada through the Tegan and Sara Foundation LGBTQ Camp Scholarship and in collaboration with the Ally Coalition.
Adding Organizers:
People can now invite more friends to manage a fundraiser together, helping to extend the network of supporters. This is the same process of adding a co-admin or moderator to a Facebook Group and Pages or a co-host to a Facebook Event, you can now add up to three friends to be organizers of your fundraiser to manage the page, support it to achieve all fundraising goals.
The company focused mainly on the purpose of increasing the supporters and the followers of Fundraising pages and organizations, to make it more meaningful.