After adding Ads to messenger on Jan 201, Facebook is now rolling up a new type of ads on its Messanger App; video ads.
Facebook is always for a new place to sell video ads, and according to Recode, users will start seeing autoplay video ads appear in their inbox next to messages from friends and family on Monday 25 June.
Stefanos Loukakos, Head of Messenger business, announced the expansion of its video ads while attending the Cannes Lions International Festival of Creativity in France. There was a concern if the user may feel intrusive or obnoxious when seeing autoplay video ads next to their private messages, but Loukakos added that the company is aware of this, and they will monitor user behavior to determine if these ads turn people off.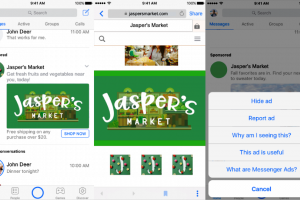 "Top priority for us is user experience, So we don't know yet [if these will work]. However, signs until now, when we tested basic ads, didn't show any changes in how people used the platform or how many messages they send."
Advertisers now can choose the Messenger video ad as placements, as an extension of campaigns running on Facebook. Advertisers can't set a campaign to run exclusively on Messenger, Facebook said.