Two days ago, Snapchat announced that they are developing some new features, tools, and updates focusing on chatting across the Snapchat platform, which helps Snapchatters feel safe and secure when they're chatting with their friends on the Snapchat app. This new update is coming after the Snap Inc. Company announced that they're launching the new Bounce Snaps feature, on 30 August 2018, as reported by the company spokesperson.
Accordingly, Snapchat also announced that alongside "Bounce", they'll also roll out several other changes to Chats. Now, the Snapchatters will have the option to keep one-on-one chat conversations and view the conversations' messages for up to 24 hours, as reported by the Snap Inc. spokesperson. As opposed to being deleted automatically after it had been viewed by the second part in the same chat. The users also will have the ability to manage this feature as they like, they will be able to turn this feature on for each individual chat they have by going to the Chat setting menu within each conversation to turn it on or off.
In the same context, it should be pointed out that, earlier this summer, the Snapchat company announced the launch of a new feature enabling users to delete chats they've previously sent, including Group Chats and private Chats. And this feature still holds true today.
There are some steps are needed to access the Snapchat new feature "Save Chats for 24 hours", which are:
It's required to turn it on for each individual conversation, as it does not turn on automatically.
Log into the Snapchat app and go to the Chat.
Click the three white lines in the upper left-hand corner, that lets the settings of Chat open up.
Tap on "Delete Chats" and two options will appear.
The first option will enable to delete the Chats "After Viewing".
The second option is "24 Hours after Viewing", which keeps the messages in Chat for 24 hours.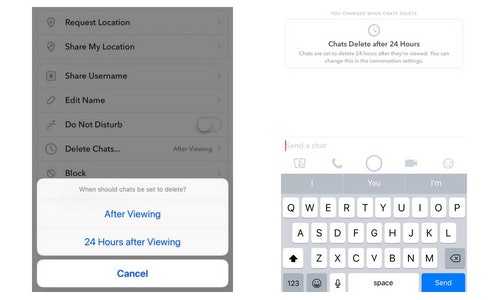 Finally, it should be appreciated that Snapchat does its best to make the Snapchat platform a safe place for chatting, and between the Snapchatters to be able to express their feelings and watch the messages instantly disappear, for no one to ever read more than once.