Based on Twitter's last disappointing second quarter of 2018 Earnings Report, Twitter's stock plunged 20.5% in Friday trading.
This fall in Twitter's market value is a result of the fact that the number of active monthly users fell from 336 million to 335 million over the past three months.
Twitter reported second-quarter earnings before the bell on Friday:
Earnings per share: 17 cents vs. 17 cents, according to a Thomson Reuters consensus estimate.
Revenue: $711 million vs. $696.2 million, according to a Thomson Reuters consensus estimate.
Monthly active users (MAUs): 335 million vs. 338.5 million, according to StreetAccount and FactSet estimate.
It should be pointed out that Twitter's shares opened down by 15% when Wall Street opened on Friday before the investors had been reported, reaching a total of 20.5% by the time the markets closed Friday.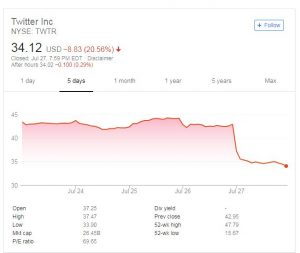 Earlier, Twitter had a cleanup campaign on its platform, that led to the deletion of more than 70m fake or offensive accounts in May and June, as reported by the Washington Post.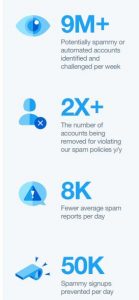 The drop in Twitter's stock – considered to be the second-biggest loss for Twitter's stock since the company went public in 2013 –  comes a day after Facebook has a great fall in its market value of about 19%, after it announced in its third quarter report that it had lost 3 million users in Europe since the Cambridge Analytica data breach scandal and the introduction of strict EU privacy laws.
As a reminder, Twitter company has been under fire from the US Congress to prevent bots and Russian-run accounts, which had been used to influence the 2016 presidential election.