It is clear that the elections in the United States of America have become a barbed wire for social networking platforms especially after the Cambridge Analytica controversy, and the interference of foreign organizations causing political discourse via social platforms.
Accordingly, two days ago, Twitter announced on its official blog the launch of the #BeAVoter campaign, aiming to encourage increased, informed participation in the 2018 US election, which will take place on Tuesday, November 6.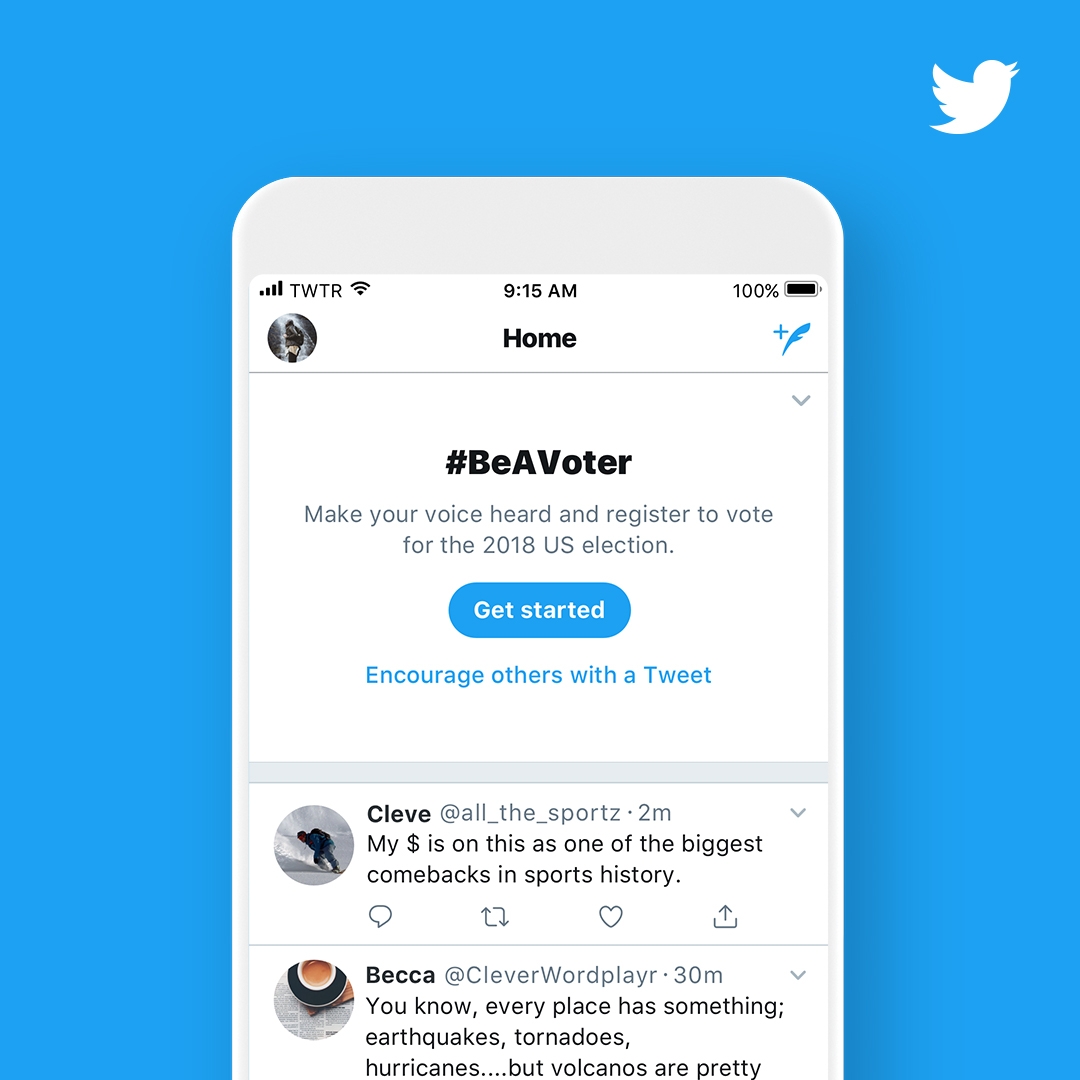 Similarly, last week, Facebook launched its Pilot Program, a set of additional features and tools to its existing political ad tools, which enables to protect all candidates and campaign staff from hackers and foreign adversaries. According to this Facebook Pilot Program, users associated with US political campaigns ahead of the 2018 midterm elections will have many protection methods and abilities. In addition, Candidates for federal or statewide office, as well as staff members and representatives from federal and state political party committees, can add additional security protection to their Pages and accounts.
According to the #BeAVoter campaign, Twitter users will able to see some differences on their platform, including:
Beginning on Monday, September 24, they will see a prompt in their home timeline with information on how to register to vote. Additionally, registered people can Tweet at their followers to promote them to register.
@TwitterGov will promote #BeAVoter to be the top US trend, which will create even more access to voter registration information, including election reminders and an absentee ballot FAQ.
Also, Twitter will roll out a new emoji connected to #BeAVoter, which will help unify the conversation around this important, national call to action.
All of these prompts will link people to TurboVote, a non-profit, non-partisan organization, which Twitter has partnered with to launch this campaign ahead of National Voter Registration Day on Tuesday, September 25, as confirmed by Twitter.
The #BeAVoter campaign isn't Twitter's only attempt regarding the matter, it's considered to be an extension to its ongoing work on providing a platform that promotes healthy, public conversation and surfaces reliable information for voters. Through this year, Twitter also created new labels to identify candidates, launched stricter rules and transparency tools for political advertising, and have committed to strengthen its platform against attempted manipulation.