Instagram has announced on its official blog yesterday, that they are rolling out Voice & video chat in their direct message which will be available for all the Instagrammers around the world.
One month ago, in May 2018, Instagram was already announced about its intention to reveal some new features and tools, and the Video chat was one of these updates:
"More than 100 million Instagrammers watch or share on Live every day. But we've heard from our community that sometimes they also want to experience real-time video in a smaller group.

In the coming weeks, we'll bring video chat to Instagram and give friends a new way to spend time together — even when they aren't actually together."
According to the Instagram's new feature "Voice & Video Chat", users can make video chat in Instagram Direct Messages, either with just one person or a group, without any need for a phone number.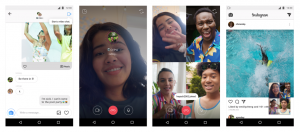 To get access to a video chat with friends on Instagram, users should do the following steps:
Swipe into the direct inbox and open any message thread.
Tap the new camera icon in the right corner,
The video chat will ring the user friends' phones so they don't miss it.
They can video chat with up to four people at a time.
If there's an active video chat in a group thread, the camera icon will turn blue.
The video chat can last for as long as you'd like.
When the user ready to leave the video chat, they tap the red phone icon at the bottom.
They can video chat with anyone they have an active direct thread with.
If the user blocks a person, the user won't be available anymore.
Users can minimize the video and multitask on Instagram, sending messages and photos in direct, browsing your feed, posting a story and more, while on the video chat.
It's all about using the Instagram's new feature "Voice & Video Chat".
On January 2018, TechCrunch made a report about a video call button spotted in a non-public version of Instagram by WhatsApp industry blog WABetaInfo, and it seems like they were internally working to implement the feature in the application and testing its possibilities. Instagram didn't comment on this till their official announcement on May.
So far, more than 375 million of the Instagram users around the world interact via messaging each month. Moreover, according to Instagram's research, 85% of messages on the app are shared with the same three friends. These results raise the desire to develop the new feature "Voice & Video Chat", which comes after the launching of live-streaming videos in 2016.
Shilp SarkarInstagram, Instagram Live product manager expressed that by saying:
"The use case that caught our attention was people just hanging out on live, particularly young people. After school, they jump on a live-stream and hang out. That use of live is particularly interesting to us."
Finally, we can say that Instagram is going forward taking the lead over Snapchat which launched video calls before, in 2014. It seems like Instagram becomes more than just a photo-sharing app, it's working hard to leapfrog other platforms with the new features like Voice & Video Chat, IGTV, Stories Sharing, New Explore, Shopping Tags and more.