YouTube revealed its next big step for creator monetization. It also announced that its development team will be rolling out some new features and tools which will help creators earn more money and build stronger communities, on its official blog a few days ago.
YouTube tries to find more ways and tools to enable creators to not only connect with their fans but also earn money from what they love to do. Those movements are based on an idea which began last year with Super Chat, a product that allows fans to purchase messages that stand out within a live chat.
"YouTube creators are the heartbeat of our platform. That's why we're committed to building products that empower and support the creator community. We hope these tools help creators build a stronger community and earn more money while doing it, because when they succeed, the entire YouTube community thrives."
One of those ways is the new tool "channel memberships". With Channel Memberships, viewers pay a monthly recurring fee of $4.99 to get unique badges, new emoji, Members-only posts in the Community tab, and access to unique custom perks offered by creators, such as exclusive live streams, extra videos, or shout-outs.
Channel Memberships have already been available for a select group of creators on YouTube as Sponsorships.
YouTube intends on expanding this to eligible channels with more than 100,000 subscribers on YouTube under the new name Channel Memberships because they achieved a great feat.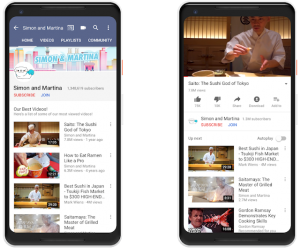 Merchandise also is considered to be one of YouTube's new tools to help creators earn more money from their YouTube content, that has been a part of many creators' businesses for a long time. As new features are being designed by YouTube to make it easier for more creators to sell merchandise directly from their channel.
This will be available to all eligible U.S.-based channels with over 10,000 subscribers starting today.

Premieres comes in as the last of YouTube new tools in this context. It helps creators to increase the engagement between fans and them.
As explained by YouTube:
"Today, we're introducing a new way for creators to upload content to YouTube called Premieres. With Premieres, creators will be able to debut pre-recorded videos as a live moment. When creators choose to release a Premiere, we'll automatically create a public landing page to build anticipation and hype up new content. When all fans show up to watch the premiere, they'll be able to chat with each other (and with the creator!) in real time via live chat. It's as if a creator's entire community is in one theater together watching their latest upload."