On July 9, YouTube announced on its official blog the launching of some new features to the platform to support the future of news in online video. With adding the new features, YouTube commits helping the news organizations to build a better news experience on YouTube, with enabling users to reach trusted reports and news easily.
"The work of trusted journalistic organizations is as critical as ever, especially when it comes to seeking information about current events online."
Back to 2015, YouTube rolled out a player for publishers on its platform, after the European publishers had complained of the high cost of video journalism. This Youtube's player was a solution that enables news organizations to use YouTube's video player and give viewers a world-class video experience across their own websites and mobile apps.
As a result, the cost of publishing news videos on YouTube has been reduced and new organizations can earn money easily from publishing on YouTube.
"In 2015 European publishers came to us to ask about how they could scale their video efforts, especially because maintaining video delivery infrastructure is costly. Working alongside them we launched Player for Publishers"
And now, YouTube is still trying to support innovation in products and funding for news. The step of added new features to the platform comes after the Google News Initiative (GNI) launching in March 2018, which built to help journalism thrive in the digital age.
As announced by Youtube, these new features and developments are:
On the upcoming weeks, only in the U.S., YouTube will start providing a short preview of news articles in search results on YouTube that link to the full article during the initial hours of a major news event. This feature specifically based on the long time taken to verify, produce and publish high-quality videos after a breaking news event.
Introducing Top News and Breaking News, a new feature that puts the important breaking news on the homepage of YouTube mechanistically. These two features are launched in 17 countries, including the U.S., U.K., France, Italy, Japan, India, Mexico, Brazil, South Africa, Nigeria and more.
Users will begin seeing information from third parties, including Wikipedia and Encyclopædia Britannica alongside videos on a small number of well-established historical and scientific topics that have often been subject to misinformation.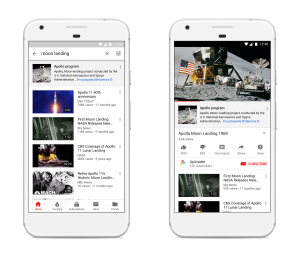 Showcasing more local news, starting with the U.S. The YouTube is testing the feature that surfaces local news in the YouTube app for TV screens across 25 media markets around the United States, making it easy to access local news in the living room– the fastest growing screen.
YouTube has teamed up with the Poynter Institute, Stanford University, Local Media Association, and the National Association for Media Literacy Education to equip 1 million teens with digital literacy skills.
YouTube also added, that the platform is committing $25M to a YouTube-specific investment, which including:
Calling the best news organizations and experts from around the world to help YouTube create new product features, enhance the news experience on YouTube, and tackle emerging challenges. News organizations including Vox Media, Jovem Pan, and India Today are early members of the working group, and YouTube is looking forward to having more members in the upcoming weeks.
Supporting and helping the news organizations by providing a fund across 20 global markets. YouTube wants to support news organizations in building sustainable video operations and enable their partners to build key capabilities, train staff on video best practices, enhance production facilities and develop formats optimized for online video.
Bringing a team of specialists around the world, who will introduce support and training to the new organizations. This training includes best practices in formats, audience development, day-to-day platform operations, and sophisticated technical integrations.
"We remain committed to working with the journalism community to build a more sustainable video ecosystem for news organizations. We know there is a lot of work to do, but we're eager to provide a better experience to users who come to YouTube every day to learn more about what is happening in the world from a diversity of sources." YouTube added finally on its announcement.