DesignCap is a free online graphic design software and flyer maker to help you turn creativity into stunning posters and flyers with great ease so that to save your time and energy. It is developed by PearlMountain that has focused on the research and development of graphic design software since 2006 to help make professional photo editing and graphic design capability accessible to everyone.
DesignCap is a web-based poster maker that does not require any designing experience. Even a novice is able to create an excellent poster in just minutes with DesignCap.
It eliminates the need to hire professional graphic designers and artists whose services come with a heavy price tag and require a few days to weeks to produce a finished product.
The graphic design app provides users with a wide selection of posters and flyer templates that they can easily customize and enhance with elements such as photos, fonts, colors, and more. The only limit, as the old adage goes, is the user's imagination.
Benefits of Using DesignCap:
It is an easy-to-use platform that even novices can get the gist of poster making in just a few minutes.
It doesn't require you to install the software into your system.
It provides a rich set of editing tools and customizable elements that you can use to create posters and flyers that are fully tailored to your business.
DesignCap features hundreds of professionally-designed poster templates.
With DesignCap, the costs of designing and creating professional posters are reduced dramatically.
It does not require any designing experience. Even a novice is able to create an excellent poster in just minutes.
Related Guide: How to Create Great Visual Experiences Anywhere
DesignCap Main Categories: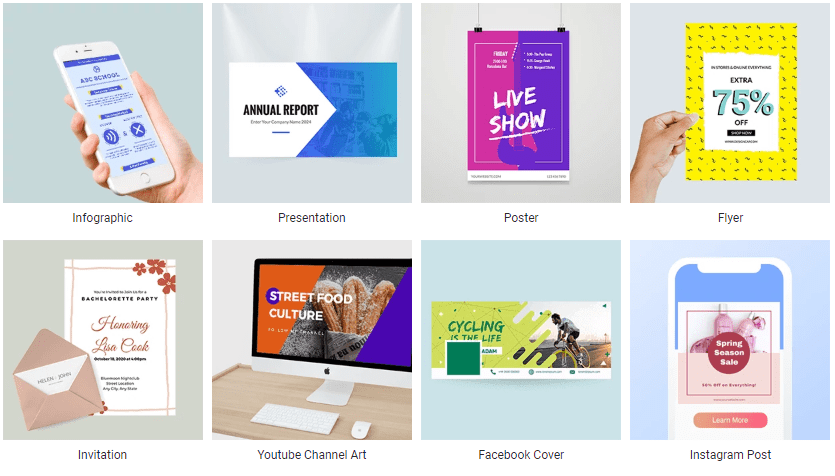 For Data Visualization

Presentation
Reports
Timeline Infographics
For Marketing

Posters
Flyers
Brochures
Menus

For Special Occasions

Cards
Invitations
Birthday Cards
Wedding Invitations

For Social Media

Youtube Banners
Youtube Thumbnails
Facebook Covers
Instagram Posts
Related Guide: 7 Steps to Generate Leads With Infographics
DesignCap Key Features:
Massive Template Library
Large Collection of Custom Elements and Resources
Online-Based Platform
DesignCap Pricing:
Free: $0/month
Basic: $4.99/month
Plus: $5.99/month
NOTE: All prices are subject to change without prior notice. So, please check the original link of pricing.