Proof connects to your CRM or website and uses social proof to boost conversions on your site. Proof implements social proof messaging (i.e. "25 people are viewing this post right now"), reviews, and videos geared towards targeted customers once they visit your site.
Proof is dedicated to helping real businesses grow using honest marketing strategies, so Proof only allows real user activity on their platform which means when people see Proof™ on your site they know it's real.
So many of the world's leading marketers use Proof, because Proof helps deliver higher conversion rates, lower cost per acquisition and increased buyer trust in one simple solution.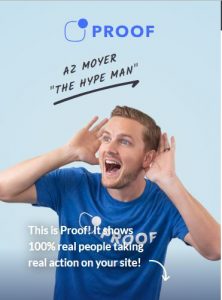 Benefits:
Social validation will convert more visitors into leads and customers.
Your online advertising spends will be more efficient than ever before.
Show visitors how popular your offer to increase trust and brand leadership.
Create hundreds of thousands of versions of your website, so that each new person sees an experience most relevant to their wants and needs.
Services & Features:
Personalize every step of the visitor's journey.
Delight all of your audiences with relevant experiences.
Create unique experiences with ease.
Be an early adopter request an invite.
Pricing:
Tiered pricing based on the volume of your website traffic.
Basic: $29/mo.
Pro: $79/mo.
Business: $129/mo.
Premium: $199/mo.
Platinum: $299/mo.
Enterprise: $ Custom.
All prices are subject to change without prior notice. So, please check the original link of pricing.