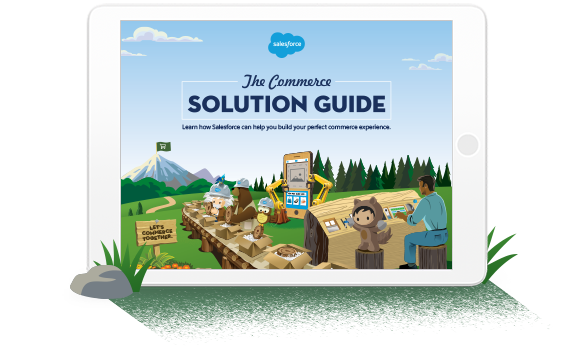 Salesforce Commerce Cloud is considered to be one of the most effective tools, software services, and products in the  Salesforce's suite of digital marketing, social media, retail, and e-commerce tools and software services.
Salesforce Commerce Cloud is also considered to be one of  the most important tools, solutions, and software services, which make all marketers, advertisers, social media specialists, retailers, brands, businesses, and all people who operate in the digital marketing and social media industry able to grow their brand faster with Commerce Cloud, in addition to creating a great brand loyalty.
Salesforce Commerce Cloud also help all of them to build and launch, flexible enough to reach their customers across any channel and come with a supportive community built right in.
On this front, we should mention that Salesforce is a software company that powers a great suite of digital marketing and technology tools, which help create a future with greater opportunity and equality for all. It is also considered to be one of the biggest companies that introduce software services focusing on digital marketing, social media, e-Commerce, retail, data management, data analytics, content marketing, email marketing, sales, and conversions.
Coming to the company history in developing digital marketing, social media, retail, data management, data analytics, content marketing, email marketing, sales, and conversions software and tools, it should be pointed out that in 1999, Salesforce pioneered cloud-based CRM software and has helped 150,000+ companies run their companies more effectively. But now, they're creating an economy that will help millions of people find career satisfaction and enjoy better lives as well. It has worked and made partnerships and helped accelerate the growth of over 275 technology startups in more than 18 counties around the world, since 2009.
Finally, you should keep in mind that Salesforce Commerce Cloud should be one of your top choices if you want to grow your business and achieve your business goals too. Hence, you should continue reading this article to explore all information about  Salesforce Commerce Cloud tool, including benefits, features, services, and pricing.
Benefits:
Build better customer experiences and crush conversion rates with Commerce Cloud.
Grow your brand faster with Commerce Cloud, the e-commerce platform ranked #1 in digital commerce.
Build better customer experiences and crush conversion rates with Commerce Cloud.
Unify the buying experience:
Connect with B2B and B2C customers across every touchpoint, backed by a single, 360-degree view of all activity, orders, inventory, and more.
Convert mobile shoppers:
Master the art of mobile commerce with our suite of mobile-first capabilities, including responsive design, optimized micro-moments, and one-touch payment.
Conquer personalization:
Inspire and convert more customers with highly personalized, AI-powered experiences — no data scientist required.
Exceed customer expectations:
Deliver continuous innovations quickly and easily with a scalable, multitenant cloud that is always on, always secure, and always fast.
Go global in record time:
Launch new sites and enter new regions faster with unified multisite management and built-in localization — even when multiple brands, languages, and currencies are involved.
Connect commerce across all functions:
Extend customer insights across sales, service, and marketing by connecting your commerce data with other clouds on the Salesforce Platform.
Reach your goals with our help:
Our proven success model means that we are with you every step of the way — from planning to launch and beyond — with site readiness assessments, dedicated success managers, and on-call strategic guidance.
Join our community of Trailblazers:
Regularly connect with industry leaders, learn from world-class retailers, and leverage the power of our extensive partner and technology ecosystem to grow faster.
Features & Services:
Salesforce B2C Commerce:
This intelligent, all-in-one B2C e-commerce solution has everything you need to create innovative, personalized shopping experiences across mobile, social, web, and more.
Salesforce B2B Commerce:
Robust B2B e-commerce solution helps you meet the complex needs of business buyers with streamlined, B2C-inspired interactions at every touchpoint.
Commerce Cloud Endless Aisle:
Provide limitless product choice and eliminate walked sales by extending digital commerce into the store.
Commerce Cloud Order Management:
Deliver seamless "buy, service, and fulfill anywhere" shopping experiences across all channels with unified order management.
Pricing:
Salesforce B2C Commerce (Convert more shoppers with AI-powered digital experiences for mobile, social, web, and store) – Priced based on gross merchandise value
Salesforce B2B Commerce (Create exceptional online buying experiences designed specifically for your business customers) – Priced based on order volume
Salesforce B2C Commerce Add-On (Commerce Cloud Order Management) – Priced based on order volume