Slack is a layer of the business technology stack that brings together people, data, and applications – a single place where people can effectively work together, find important information, and access hundreds of thousands of critical applications and services to do their best work.
Because it's such a popular communication channel, Slack has wide-ranging integrations with plenty of other tools. You can tack on a seemingly unlimited amount of integrations and Slack applications to make the tool even more powerful — for instance, many teams will pipe in A/B test results, analytics notifications, new customer or transaction notifications, or even sales or customer support bots. While undeniably powerful, Slack is easy to start using immediately.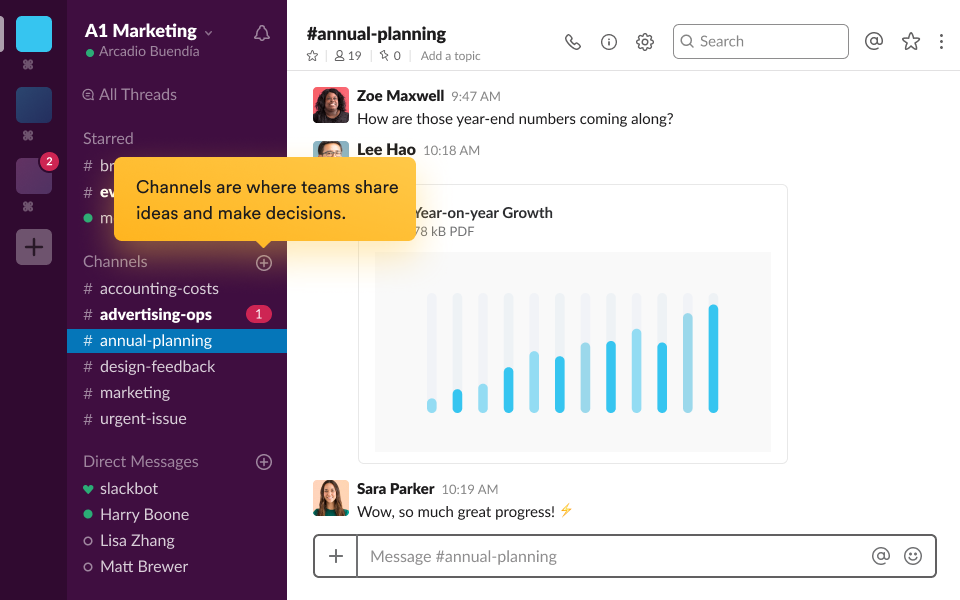 Benefits:
Slack brings all your communication together.
Channels can be divvied up by team, project, client, or whatever else is relevant to your organization.
Team members can join and leave channels as needed — unlike lengthy email chains. Threads keep side conversations from derailing the topic or project at hand.
Share channels with companies and businesses you regularly work with – like clients, vendors, and partners
Talk it out over voice or video calls directly from Slack
Drag-and-drop PDFs, images, videos and other files directly into Slack
In Slack, tools and services work in the same place as your team. Information leaves siloed inboxes and flows into shared team channels.
Slack protect your data as if it were their own.
Services & Features:
Collaboration beyond colleagues.
Face-to-face and -screen.
Integrated file sharing.
Pricing:
Free: $0.
Standard: $6.67.
Plus: $12.50.
All prices are subject to change without prior notice. So, please check the original link of pricing.