Survey Anyplace develops your data collection by improving your surveys. Most surveys today overlook the respondent's experience, which is why they produce low response rates. Their survey maker designs modern-looking surveys that engage respondents, are easy to answer, and use cutting-edge mobile features – just like your audience. And you get greater response rates and better feedback.
Survey Anyplace is able to reflect your branding on surveys and allows you to build your own, and they've improved upon the user experience. You can now formulate your own questions and include images as needed.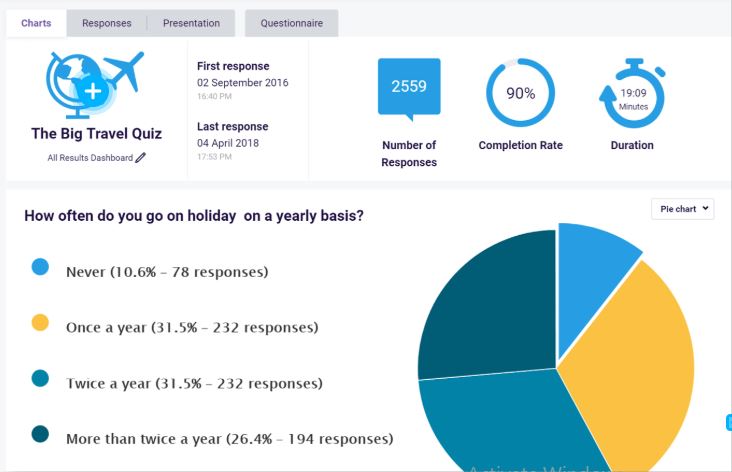 Benefits:
With a few clicks, you can add images, video, animations—you name it.
Their easy builder walks you through each phase of creating your survey or quiz. Point, click, create!
The quiz or survey you just created is chameleon-like: it adapts to every device and environment you put it in( iOS or Android, phone or tablet).
They've got tons of wisdom on their blog to give you insights and ideas on distributing your tool at events, through your brand's printed materials, during presentations, etc.
Survey Anyplace make it easy to collect timely, relevant data, quickly and efficiently with instant respondent uploads you can keep to yourself or share with a wider audience.
Services & Features:
Quality Question Types & Features.
Illustrious Incentive Widgets.
Quirky Quiz Capabilities.
Adventurous Assessment Components.
Delightful Design Features.
Refined Reporting.
Serious Set-Up Functionalities.
Engaging Email Options.
Intelligent Integrations.
Multi-User Management & Collaboration.
Captivating Campaigns.
ReportR – Personalized PDF reports.
Pricing:
Basic: $0 (Free! Perfect to get started and explore some awesome features).
Essential: $25 per month.
Professional: $42 per month.
Enterprise: On request! A plan customized for your business.
All prices are subject to change without prior notice. So, please check the original link of pricing.