Megan Haller the Contributor Video Marketing at Google wrote about a campaign that drove thousands of conversions, six-figure sales results, and had an average view-through rate of 37%, which was 23% higher than the average view-through rate for video ads in the e-commerce industry.
Yoox YouTube Campaign | Case Study
Yoox dreamed up "The World's Most Exclusive Collection" campaign: a series of pre-roll video ads that practically dared viewers to buy a one-of-a-kind item. The catch? If a user didn't click on the ad quickly, the offer was gone forever.
Yoox gathered a list of top luxury fashion-related search terms across its target markets: U.S., Italy, Japan, and South Korea.
Using that information, they curated a collection of 400 products that were exclusive to the campaign and not otherwise available on Yoox.com. From there, they created five different video ad templates, based on product type (for example, shoes, handbags, and tops).
The resulting direct response video ads gamified the user experience, inviting viewers to take action to save the featured luxury item from destruction. The ad's opening moments made it clear that viewers had to act fast or lose out on the offer altogether. By hitting the "Shop Now" button, users were directed to a landing page where they could purchase the unique item.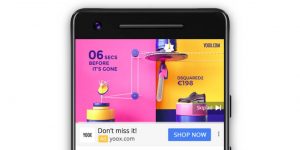 Four tips to drive conversions from your next YouTube video campaign:
 Let consumer behavior guide your creative hook
Use pacing and rhythm to encourage action
Make taking action simple and easy
Use custom targeting to reach an interested audience
Below is one of their ads in "The World's Most Exclusive Collection" campaign