WhatsApp Business is a separate app that small businesses can use to connect with their customers. WhatsApp Business App was built with the small business owners in mind. With the app, businesses can interact with customers easily by using tools to automate, sort, and quickly respond to customer messages.
Businesses using WhatsApp Business can connect with ordinary WhatsApp users as normal. As such, there's no need for ordinary WhatsApp users to download the separate app, the company said. WhatsApp users will know when a business contacts them rather than an individual, as a business account shows its status.
It is a nice move that WhatsApp is going all-in for small businesses. Over 80% of small businesses in India and Brazil say WhatsApp helps them grow their business.
In this case study, we'll discover how OTTO the major European ecommerce company implemented WhatsApp as an additional customer service channel. Consequently, they found that after implementation, the average handling time for simple customer requests decreased by 15%, compared to email.
The Otto Group, or Otto GmbH & Co KG, is a mail order company and currently one of the world's biggest ecommerce companies. It is based in Germany and France, and operates in more than twenty countries. Otto is primarily a retail ecommerce company, and as a shareholder, it also operates in e commerce services.
With over 7 million online customers and more than 2 million users on OTTO.de every day, OTTO GmbH & Co. KG has been one of Germany's most successful online retailers of fashion and lifestyle products. The company generates more than 90% of total sales through its award-winning online shops. From the start, OTTO has put a strong focus on high-quality customer service.
PROBLEM
As one of the most successful online retailers, OTTO's core priority is to provide outstanding customer service. With WhatsApp, OTTO strives to make the shopping experience with OTTO.de even better for its customers.
SOLUTION
OTTO's customer service teams had usually used email and direct calls to handle delivery status queries, account management requests, questions about customers' personal account balances or complaints about defective products. However, the ecommerce company wanted open a direct dialogue with customers by providing a user-friendly channel that they could use to immediately access the customer service team.

By using the WhatsApp Business API via the software provider novomind, OTTO was able to implement the services in a short period of time. Both companies had partnered before to set up a dedicated webchat service based on the novomind iAgent, both on the website and in the app. Thanks to this existing webchat service, novomind was able to maintain the look and feel of WhatsApp, as well as its functions.

OTTO officially launched its WhatsApp service on November 20, 2018. New teams of about 100 customer service agents were trained and set up in the customer service centres to handle WhatsApp requests.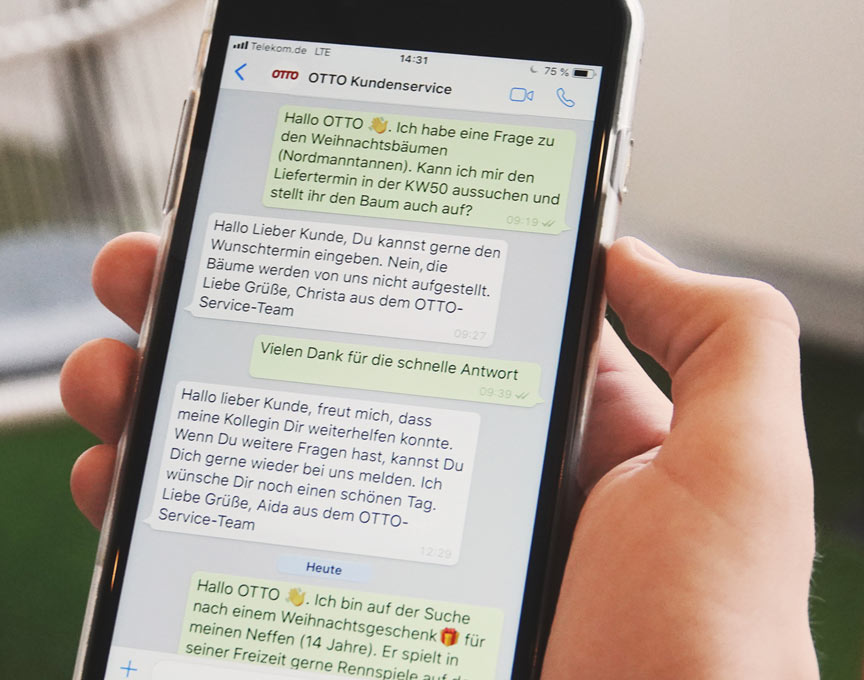 Customers can access OTTO's WhatsApp service in 2 ways. During the account creation process, new customers were asked if they wanted to be contacted via WhatsApp and gave their consent accordingly. Existing customers could start a conversation with OTTO's customer agents by initiating a service request through the OTTO website.

With WhatsApp, OTTO's customer service agents were able to interact with people in a direct and personal manner, thereby resolving issues much faster. OTTO also observed that people responded to messages more quickly via WhatsApp than by other methods, such as phone or email.
RESULT
After introducing WhatsApp Business as an extra communication tool for customers in November 2018, OTTO saw the following results within the first 6 months:
40,000 contact requests per month
4 WhatsApp messages per customer on average
15% decrease in Average Handle Time (AHT) for simple customer requests, compared to email