Facebook social networks users are reporting their inability to access the platforms; including Facebook, Instagram and WhatsApp. The issue seems to affect users worldwide, as more than 14,000 reports -so far- on outage monitors have been registered. The outages seem to have started around 10:30 GMT this morning. The problems are also affecting Facebook Messenger, as well as Facebook-owned services like Instagram and WhatsApp. You might experience the outage in various forms, such as news feeds not refreshing, the Facebook main domain unavailability, and WhatsApp not sending or receiving messages.

Most reported problems:
Newsfeed (52%)
Log in (24%)
Total blackout (23%)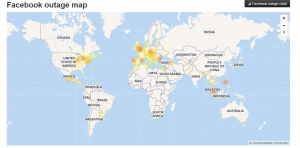 This marks the second outage to affect Facebook, after having suffered their worst outage just over a month ago. That outage rendered Facebook, Instagram, and WhatsApp inaccessible for many hours. It took a whole day for the services to stabilize again.
Facebook reported their last outage was due to a change in server configuration. As for this outage, there has been no official statement yet from Facebook.
Social media users are finding refuge in Twitter, as well as using it as an outlet for their frustration with the outage. Hopefully this issue will be resolved soon, and we won't have to "Break out the CB radios and carrier pigeons" as a user have tweeted.