As millennials are getting old, a younger generation is now hitting the workplace worldwide. Generation Z, or Gen Z, were born between 1995 and 2015, and they're the next age group to affect purchasing power.
According to the latest Facebook report, Gen Z consumers are already estimated to influence some $143 billion in spending in the US alone.
The Gen Z have grown up in a social media world, constant connectivity is part of their characters. They share some specific qualities that marketers need to be aware of – which is what Facebook's latest research report is all about.
Top Insights from Facebook report "Gen Z Consumers: Getting to Know the 'Me Is We' Generation"
According to Facebook report, 71% say of Gen Z would like to see more diversity in advertising, as their dedication to embrace all lifestyles influence how it expects to be represented in the media.
Facebook notes that diversity is key:
"Gen Z often sees its diversity as an asset – this is the most diverse generation in US history – and its members like seeing representation beyond conventional constructs. In fact, 71% say they would like to see more diversity in advertising. Gen Z's dedication to embracing all lifestyles influences how it expects to be represented in the media."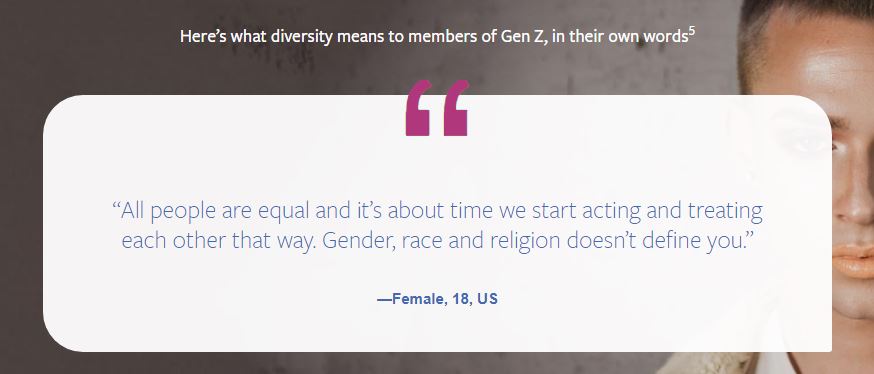 Facebook also mentioned that 43% of Gen Zers surveyed say they find it difficult to choose what to watch, listen to and read. They grown up with a world where information as close as their phone, it is perhaps no surprise that Gen Zers are inquisitive.
The report added that Instagram – the platform is owned by Facebook, Inc. – plays an important role in helping Gen Zers deepen their passions and connect to the bigger picture, which giving marketers the opportunity to listen and partake into the Gen Zers genuine selves.

In the end, Facebook report has listed some tips for the brands to help them connect effectively with the Gen Zers: 
Connect through communities.

Channel plan like a Gen Zer.

 Lead with your values.
Check out the full report published by Facebook here