Google is enhancing the placement and visibility of Shopping ads on YouTube, the company announced Tuesday. In addition, Showcase Shopping ads are also appearing in other placements and opening up to more categories. Finally, sitelinks are coming to TrueView for action ads.
This lets brands advertise their products and services right in the YouTube home feed and search results. For example, if a user searches for "Puma shoes review," a Shopping ad may offer a row of suggested products at the top of the page before the video results. The ads may also appear as a carousel between the videos on the homepage.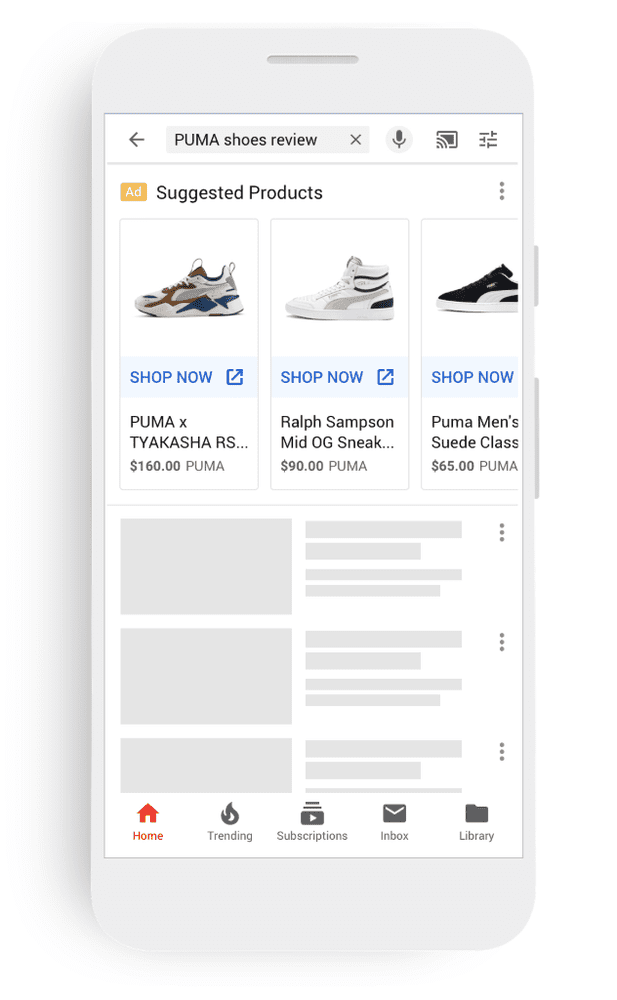 "Video has also become a favorite research tool for holiday shoppers. Nearly two-thirds of shoppers say online video has given them ideas and inspiration for their purchase. And more than 90% of these folks say that they've discovered new products and brands via YouTube."
As for sitelink extensions in TrueView for action ads on YouTube. This way, YouTube will provide an option for brands to add more landing pages into their ads. TrueView is an ad format that gives the viewer the option to skip the advertisement after five seconds. Sponsors pay only for ads that are viewed in their entirety or until 30 seconds have elapsed.
What determines the sort of ad unit consumers see on YouTube is user behavior. People who searched for a specific product will get relevant offers, while people who were browsing without that strong intent will see Discovery ads, which are based on their interests or past shopping behaviors, said Nicky Rettke, director of product management for YouTube Ads. Both ad units link out to product detail pages on advertisers' websites.