On Wednesday, Instagram announced that it'll soon start placing ads within the Explore page. Explore tab is where users go to discover new content that lines up with their interests. The ads won't appear on the Explore grid itself, but they'll appear once a user taps on an Explore post and begins scrolling through that discovery feed. The ads will be photos and videos. The team will begin working with select partners over the next few weeks. They will look forward to opening Explore Instagram Ads up to everyone over the next few months.
Instagram says this is an opportunity for advertisers to "be part of what's culturally relevant and trending. While reaching new audiences who are looking to discover something new".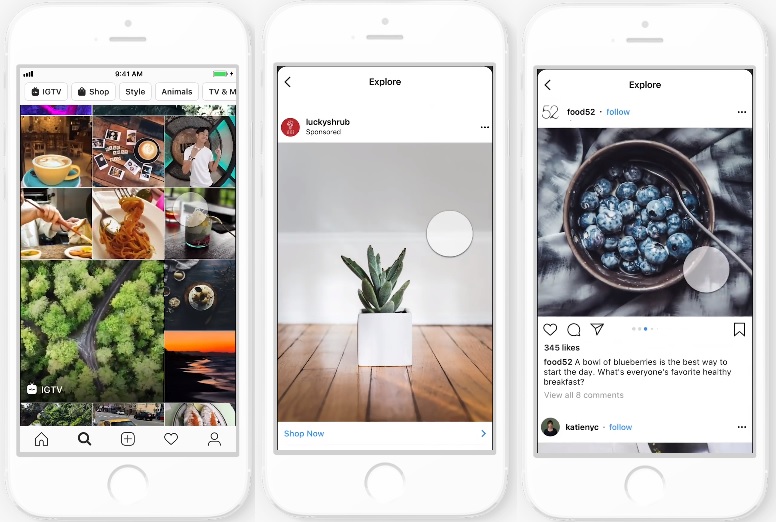 Advertisers will be able to extend their on-platform ad campaigns to Explore by using automatic placements and opting into the new 'Explore' option. Instagram explains "Explore is one of the best places for people to discover, shop and connect with people, businesses and creators. More than 50% of accounts on Instagram use Explore every month. It's where people go when they want to see photos and videos related to their interests from accounts they may not already follow."
"Today, 80% of people follow a business on Instagram. Explore can help them find the next business or product they might love. Brands are an important part of the Instagram experience for people. Whether it's shopping, catching up on stories or discovering the latest trends, we see people actively looking to connect with brands they like. That's why, over the next few months, we'll be introducing ads in Explore feed."
It's unclear how often users can expect to see advertisements in Explore once they are available on the platform. The first advertisements will arrive today and direct users to Instagram's own IGTV, as reported by The Verge. In the future, ads will include both images and videos. This marks an expansion of advertisements on the platform. And would add a third Ad placement option other than Stories and the regular user feed.