LinkedIn announced the addition of a new element to its API program to help brands get insights on audience engagement. It will enable third-party partners to shed light on key topics of focus to improve LinkedIn campaigns. This all-new "Audience Engagement" category has five new third-party analytics tools: Amobee, Annalect, Hootsuite, Ogilvy, and Sprinklr.
Audience discovery insights:




These audience engagement insights can help simplify the research process and uncover opportunities by identifying the audiences who have high engagement with topics or articles related to your industry.

Content recommendations tools:




These integrations offer an easy way to discover what kinds of content your audience tend to engage with. Hence, Not only can this help boost performance on LinkedIn, but it can also provide actionable insights to improve the content marketing strategy. Attracting these audiences via other online tactics.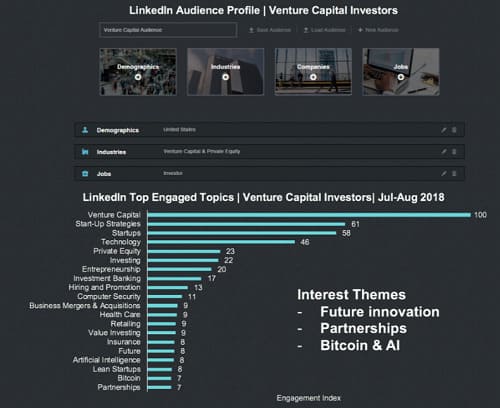 Industry benchmarking data:




Sometimes it's helpful to know how your content is performing against others in your industry. Now you can better understand the kinds of content your competitors are posting. And how their engagement compares against your own. These insights can help optimize your targeting and content strategy. 
Vice president of alliances at Hootsuite, Stefan Krepiakevich said:
"As a strategic partner of LinkedIn, we are thrilled to be one of the first partners to have access to LinkedIn's Audience Engagement API to deliver added value to our Hootsuite Impact customers. These added capabilities will enable Hootsuite Impact customers to discover new audiences to improve campaign targeting while increasing organic and paid performance on LinkedIn."
While Johnny Horgan, senior VP of social sales and partnerships at Amobee, added:
"We're excited to blend LinkedIn insights with Amobee's Brand Intelligence solution to give a new perspective into professional content and engagement trends. This unique collaboration allows Amobee to paint a more holistic picture for clients. And provide them with expanded layers of insight that guide their marketing strategies."
Marketers on LinkedIn will now have a broader view of what works on the platform. Through access to audience discovery insights, content recommendations and industry benchmarks. Moreover, with the five new integration partners now available to deliver those insights, the choice seems easier for marketers.