In today's piece, we'll delve into the world of LinkedIn, and discover how Audi utilized LinkedIn Analytics for raising brand and product awareness.
Many people confuse building a brand with building awareness. Getting the right audience to know you is a big part of brand marketing, of course. Yet, it's not the only thing you have to achieve. There's far more to it than that.
So, What is it?
The art of building a brand involves moving people through several different stages of consideration. Having different conversations at different moments, and with different purposes in mind. There's a lot of nuance to how you address the varied audiences that will decide the success of your products, and the objectives that you have in mind when you do. You need awareness, but you also need association and affirmation, building reputation and word of mouth, intrigue and interest, desire and aspiration, and the conviction that a brand and product are right.
Audi's Approach:
Audi along with agencies PhD and We Are Social knew from the start that LinkedIn would be the ideal platform for launching the new A8 model. The A8 is a premium saloon, packed with exclusive and superior technology. The audience that could appreciate this elegance and innovation were on LinkedIn. Moreover, they are far easier to identify and target with LinkedIn Analytics than anywhere else. Therefore, Audi made an early decision to launch the A8 social campaign exclusively on LinkedIn.
Audi AG is a German automobile manufacturer that designs, engineers, produces, markets and distributes luxury vehicles. Audi is a member of the Volkswagen Group and has its roots at Ingolstadt, Bavaria, Germany.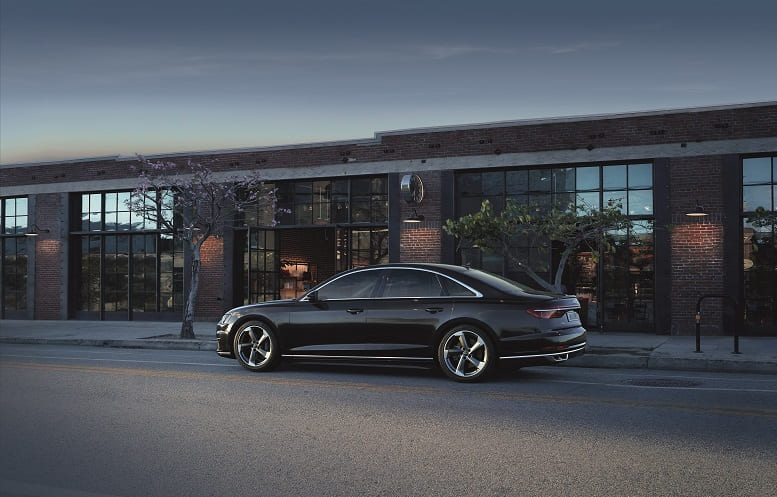 PROBLEM
Audi and its agencies PhD and We Are Social wanted to find the ideal campaign for launching the new A8 model. The target was two key audiences: top executives and entrepreneurs who buy and drive for themselves, and the chauffeurs who invest in vehicles to drive senior executives. Every aspect of our campaign was tailored to the particular needs of these two distinct audiences.
SOLUTION
Their high-end B2C campaign targeted senior company directors and above, with a specific focus on those who had recently made a career change, which research shows is a powerful trigger for car purchases.

At the same time, they reached out to those with the potential to influence brand perceptions around the A8, such as journalists and opinion formers. And added a 'halo effect' to targeting by delivering content to affluent millennials where they had the potential to build aspiration around both the Audi brand and the A8 model.

Research consistently shows how aspirational B2C brands can drive extremely high engagement in the LinkedIn feed through beautiful imagery and natural stand-out for their Sponsored Content.

Long-form posts on LinkedIn were also a natural platform for We Are Social's daring influencer strategy. This involved reaching out to style leaders across different fields of life to discuss the art of understatement and how this related to a beautiful car with brains.

The launch of video for Sponsored Content provided the campaign with powerful new dimensions to play with creatively, using short-form video teaser content to showcase the exterior of the car to drive awareness and intrigue across all audiences.

The short-form teaser video was followed by photography of the A8 interior with text overlays that highlighted different features for different audiences: for chauffeurs, the touchscreen technology that helps to keep drivers safe and in-control; for senior executives, the luxurious in-car features controlled through the bespoke Audi tablet.

Long-form video stories provided an expert perspective on the experience of driving the A8. Influencer posts from Michelin-star chefs and luxury craftsmen discussed the particular take on style and technology that it embodies.

Audi and its agencies were able to use LinkedIn's rich metrics and analytics for a clearer view of how each touchpoint and creative approach was performing.
RESULT
Audi assessed its success by enhancing three important aspects of brand perception: that "Audi make cars with intelligent technology", that "Audi make cars we want to be seen in", and that the A8 is a vehicle people would be happy to recommend to friends and family. Research showed the LinkedIn campaign delivering significant uplifts of 8% or more across each of these three metrics.
The campaign's engagement rate was 240% the benchmark for an auto campaign on LinkedIn. Engagement and completion rates for the short-form teaser video showed its impact across the different audiences. Meanwhile the long-form content developed with We Are Social's influencers played a major role in establishing the desirability of the vehicle.
The Audi campaign was a masterclass in combining varied video content, beautiful photography and long-form written posts, and using LinkedIn analytics and brand research to assess the impact in detail. As a result, the brand created a fantastic platform for translating the demand it's generated around the A8 into leads and sales.