Today, businesses and advertisers have many available options for their digital marketing mix. Yet, few are having a moment quite like Instagram Video Ads. More than 2 million advertisers use Instagram to reach the social network's 1 billion active users at a time. Moreover, statistics saw an 80% increase in time spent watching Instagram videos.
Instagram has continually expanded its offerings for advertisers, with each type of ad placement offering unique advantages. Since feeds are places where most users scroll through and glance at content — not always stopping to interact with or click through to websites or download pages — in-feed Instagram Video Ads is one of the ideal placements for increasing brand awareness. Many advertisers have seen higher engagement and sales conversions when using them as part of a combined placement strategy.
Facebook Watch is a place on Facebook to enjoy original shows and the latest videos in sports, beauty, entertainment and more. Just as the 2019 National Basketball Association (NBA) Playoffs began, Facebook Watch launched Stephen vs The Game, an original docu-series about star player Stephen Curry.
Facebook Watch launched Stephen vs the Game with a video ad campaign built to drive awareness and viewership, resulting in a 75% lift in show watch hours within Facebook Watch.
"Following Facebook and Instagram's creative best practices, capitalising on current cultural narratives and leveraging Instagram's unique media offerings allowed us to achieve statistically significant lifts in our behavioural and awareness metrics simultaneously. In addition, we earned some of the highest scores for ads ever tested at Facebook in the Breakthrough category." Says Jessica Lewis, Media Lead at Facebook Watch.
PROBLEM
Facebook Watch's campaign goals were to drive higher viewership of its new docu-series about NBA star Stephen Curry during the NBA Playoffs and Championships and increase show awareness.
SOLUTION
To achieve the dual goals for this campaign, Facebook Watch designed a thumb-stopping digital ad campaign. The team first identified the most popular themes about Stephen's appeal, the Warriors and the NBA. These themes were drawn from themes that were trending on Facebook and Instagram, and the team used these insights to help frame the campaign. 
The team then created engaging, relevant video ads starring Stephen that highlighted his life on and off the court, including his talent, shot-making skills and role as a family man.
In line with Facebook and Instagram's mobile-first best practices, the Facebook Watch team built full-screen vertical video ads that prominently showcased the talent to draw immediate attention, displayed important branding elements within the first several seconds, included text overlays that could be understood with sound off and ensured that all ads were under 15 seconds in length. The company delivered these ads in Instagram's feed, Stories and Facebook News Feed.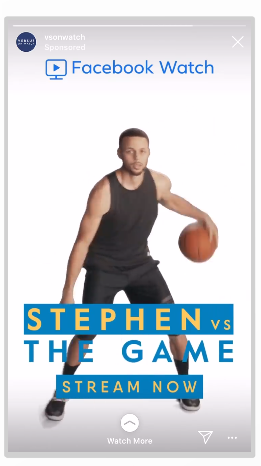 Facebook Watch strategically showed the ads to people in the San Francisco Bay Area, and to US adults aged 18–49 nationally with an interest in Stephen Curry, the Warriors basketball team, the NBA and sports media. 
The company also showed the ads to Custom Audiences of people who had viewed a pre-promotional trailer video or watched any Stephen vs the Game episode, and lookalike audiences based on the people in the Custom Audiences.
RESULT
Facebook Watch determined the results of this May 2–June 5, 2019 campaign using a Facebook conversion lift study, which revealed:
75% lift in intended watch hours of

Stephen vs the Game

1.8% incremental lift in show awareness among target audience

27% lower cost per Through Play (compared to other Facebook Watch Originals in first half of 2019, on average)

49% lower cost per link click (compared to other Facebook Watch Originals in first half of 2019, on average)