OSHEE is one of the most recognizable brands in Poland for active people, including people who go in for various sports, either as a hobby or professionally, as well as all those who follow current trends in life. It is also the market leader in functional beverages in Poland. It inspires, motivates for action, physical activity, and healthy lifestyle. It puts a great product in the spotlight, which meets the expectations of the most demanding customers.
Today, the company's services and products are available in 3 continents, 27 world markets, in addition to providing sports people with more than 56 products, which conquering foreign markets.
OSHEE has had a great challenge to build an effective awareness for its new  Vitamin Water product in Poland.
Key Results:
17% of viewers watched entire videos

11-point lift in ad recall
Campaign Creator:
On this front, it's previously mentioned that this sports drink company's "OSHEE" depended on Business Factory agency to be responsible for the company's ad campaign that builds awareness to its new vitamin water product.
Business Factory is a digital agency with unique technology operating in the market since 2009. Since then, it has become the official partner of Facebook and Google and has opened five offices around the world. With its own advertising technology and top-notch know-how, they move the boundaries of online marketing for our clients worldwide. They also stand for the emergence of the online magazine Newsfeed, the Newsfeed DAY conference, and the Brandformance brand division.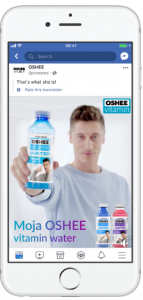 PROBLEM
This sports drink company's "OSHEE" challenge was that they need to drive unique brand awareness and make a huge number of people in Poland being informed with its Vitamin Water product line.
SOLUTION
First off, OSHEE partnered with agency Business Factory (part of Facebook Marketing Partner ROI Hunter), in order to run its new campaign through the Facebook and Instagram platforms.
The agency took a suite of effective steps to build awareness to this new product, such as:
-Create short, attention-grabbing videos for its Facebook and Instagram ad campaign.
-Create 4 versions that were adapted from OSHEE's TV ads, which were running concurrently.
-Recruit Polish football legend Robert Lewandowski and popular vlogger Vin Milton to be used as OSHEE's videos featured in a mobile-friendly, Facebook-optimized format.
OSHEE targeted video ads to a broad audience of people ages 16–49 in Poland.
Ad delivery was optimized for reach, and the ads appeared in Facebook News Feed, Instagram feed, and Instagram Stories.
OSHEE then conducted a Facebook brand lift study to evaluate the impact of the ads on audiences.
RESULT
As reported in its analytics, OSHEE's 4-week video ad campaign managed to achieve a set of good results, especially in driving brand awareness, creating a strong foundation for future direct response campaigns:
17% of viewers watched entire videos
11-point lift in ad recall