Paying attention to emerging trends has never been more meaningful. Markets are constantly advancing, and industry leaders depend on market intelligence to keep their brands at the frontline by identifying meaningful discussions and responding to and handling potential crises.
And unfortunately, we can see that many organizations still rely on traditional news monitoring tools just to inform their PR and Communications strategy. These tools are designed to monitor and alert on brand mentions, company press releases, and breaking news.
Without delaying this further, let's go through this proactive communication strategy guide.
Align Your Strategy with Strategic Business Objective Across Your Organization
This is the first step to creating a proactive communication strategy. So, whether your goals include launching a new product, brand awareness, or managing a crisis, a successful communication strategy will definitely align with your organization's broader business objectives. Moreover, a broad analytics program aligned with strategic business objectives will generate a higher ROI.
Engage stakeholders to identify their primary business goals and identify where news media analytics and market intelligence can help drive those initiatives, including:
Content strategy
Category Intelligence
Competitive tracking
Brand perception
Public relations
Product launches
Events and tradeshows
Thought leadership
And many more!
You can do this exercise to set a realistic objective too, it will e very handy because it's necessary for assessing the success or failure of communications goals and proving the value of the communications efforts.
Analyze the Complete Media Landscape
This is the second step of creating a proactive communication strategy. Given the volume of news stories, press releases, social conversations, and other content created on a daily basis, it's difficult to keep up, let alone make sense of the data.
Organizations still spend countless hours, if not days, manually reviewing, analyzing, as well as tagging articles in search of trends or insights, wasting valuable time in a competitive market or, worse, making poor decisions.
Let's imagine that a Google search returns 3K articles n "autonomous vehicles". It's a long list ranked by relevance, however, what if that list was organized thematically in such a way that you could easily spot trends, identify specific authors and sources, or understand adjacent topics.
Next-generation news media analytics solutions analyze and organize those 3K articles into groups based on topic and theme, in addition to the relationships between those clusters, to help you:
Identify forums, blogs, and trade journals that focus on your industry or product
Understand the complete news narrative
See whether news coverage is negative or positive, and how it impacts your reputation.
In the example below, the media landscape of "autonomous vehicles" is analyzed and the results are organized into unique clusters based on topic and similarity.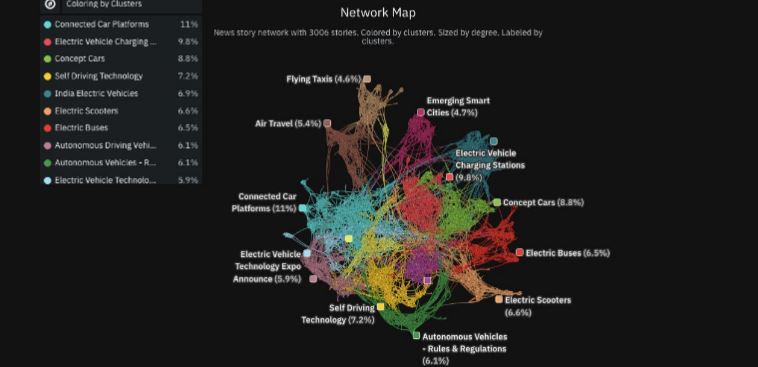 Also, notice that "Connected Car Platforms" has the largest share of the news landscape, hence is represented by the largest cluster.
2 steps down and 5 more to go to create the proactive communication strategy, make sure to check the full guide now!
The Content of "7 Steps to Building a More Proactive Communication Strategy" Guide:
Introduction: Why Most Communications Strategies Are Reactive
Step 1: Align Your Strategy with Strategic Business Objective Across Your Organization
Step 2: Analyze the Complete Media Landscape
Step 3: Get Deeper Insights into Your Competition
Step 4: Identify Untapped Opportunities to Join the Conversation
Step 5: Plan Your Media Strategy
Step 6: Create More Targeted Messaging and Content
Step 7: Stay Ahead of the AI Technology Curve
Summary
Number of Pages:
Pricing: